Are you looking to create awesome Little Mermaid Birthday Party Ideas? We've got some great ideas for you!
Celebrate the magic of the underwater world with the enchanting theme of the Little Mermaid! With the timeless story of Ariel and her friends, You can use these Little Mermaid Party Ideas for a child's birthday party, a fun summer gathering, or even an elegant mermaid-inspired soiree.
DISCLOSURE: SOME OF THE LINKS IN THIS POST ARE AFFILIATE LINKS. THIS MEANS IF YOU CLICK ON AN AFFILIATE LINK AND PURCHASE THE ITEM, I WILL RECEIVE AN AFFILIATE COMMISSION AT NO EXTRA COST TO YOU. ALL OPINIONS ARE MY OWN AND I ONLY RECOMMEND PRODUCTS OR SERVICES I BELIEVE WILL ADD VALUE TO MY READERS. SEE FULL DISCLAIMER HERE.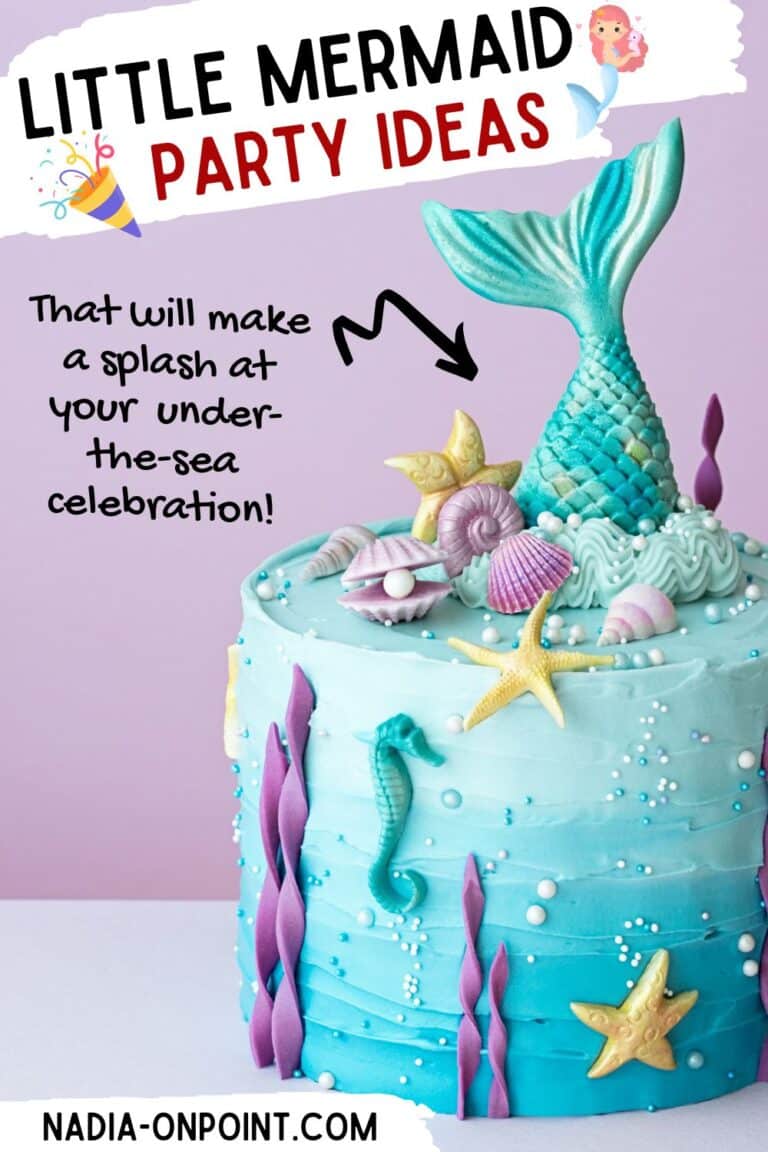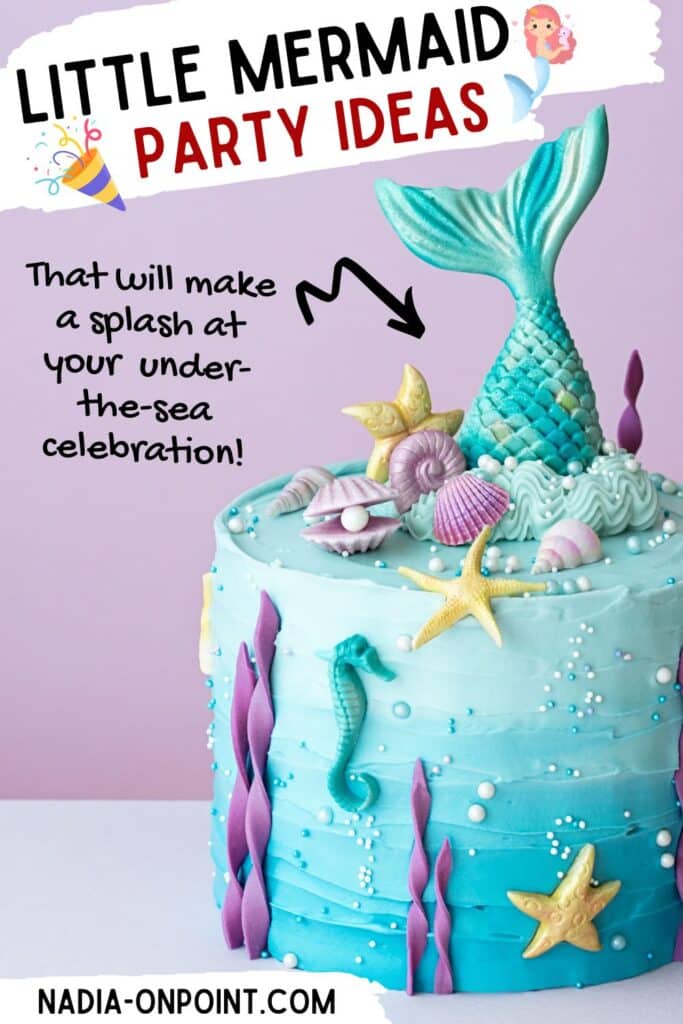 The Little Mermaid Party Ideas
Mermaid Treasure Hunt
A mermaid treasure hunt adds excitement and a sense of adventure to your party. Hide tiny treasures such as seashells, pearls, or themed trinkets around the party area, indoors or outdoors. Provide guests with a treasure map or clues, encouraging them to work together to find the hidden treasures. You can then trade the discovered treasures for small prizes or use them as party favors.
---
Mermaid Pool Party
Enjoy warm weather and host a mermaid pool party for your guests. Transform your pool area with colorful floats, underwater lighting, and mermaid-themed decorations. Encourage guests to wear mermaid-inspired swimwear and provide water-friendly games and activities like water races, synchronized swimming competitions, or even a mermaid-themed water balloon fight.
---
Under the Sea Dance Party
Host an under-the-sea dance party by converting your party space into an underwater paradise. Use blue and green lighting, hanging jellyfish decorations, and ocean-themed wall decals to create an immersive atmosphere. Choose an aquatic playlist filled with songs related to water and the ocean, and encourage guests to come dressed in their finest mermaid or ocean-inspired attire.
---
Mermaid Tea Party
Consider hosting a mermaid tea party for a more elegant approach to the mermaid theme. Decorate with seashells, pearls, and under-the-sea decor around the tea and snack area. Offer a variety of ocean-themed treats like starfish-shaped sandwiches, fish-shaped cookies, or seaweed-wrapped sushi, accompanied by a selection of teas and other beverages.
---
Ariel's Grotto Party
Recreate Ariel's grotto in your party space using a mix of aquatic decorations and found treasures. Fill a small corner or room with antique mirrors, musical instruments, seashells, and other trinkets. Then, invite guests to add their treasures to the grotto, making it a personalized and interactive part of the party experience.
---
Scuttle's Scavenger Hunt
Design a scavenger hunt inspired by Scuttle, the eccentric seagull from The Little Mermaid. Create a list of both under-the-sea and shore-based items for guests to find. Appoint a "Scuttle" to act as the guide, providing hints or riddles along the way for added entertainment and excitement.
---
Mermaid Tail Cake Decorating
Host a mermaid tail cake decorating activity where guests can unleash their creativity and indulge in some tasty treats. Provide pre-baked mermaid tail-shaped cakes, along with various decorating supplies like colorful frosting, edible pearls, and scales made from fondant. Set up a photo booth where guests can display their creations before enjoying their edible masterpieces.
---
Flounder's Fish Fry Party
Celebrate with a Flounder's Fish Fry featuring various delicious seafood dishes! Offer a buffet-style meal with battered fish, crab cakes, calamari, and some refreshing fruits and veggies. Take it one step further by creating a Flounder-inspired centerpiece using fish-shaped dishes or a fish-shaped cake to delight guests.
---
Ursula's Revenge Party
Embrace a darker, villain-focused aspect of The Little Mermaid by hosting Ursula's Revenge Party. Decorate with deep purples, black accents, and images of the sinister sea witch herself. Organize games and activities centered around Ursula, such as trivia or a tentacle-wrapping relay race to keep guests entertained.
---
Sebastian's Musical Party
Inspired by the beloved crab, Sebastian plans a musical event incorporating his signature calypso tunes. Set up a karaoke station with lyrics from your favorite songs from The Little Mermaid, and provide maracas or other handheld instruments for guests to join in on the fun. Decorate the space with vibrant Caribbean-inspired colors and images of Sebastian himself.
---
Atlantica's Royal Ball
Host an Atlantica's Royal Ball by inviting guests to come dressed as their favorite under-the-sea royalty. Use a combination of blue, purple, and green jewel tones to create an elegant and magical atmosphere. Plan a regal menu, complete with a seafood-inspired main course, and hire or designate a dance instructor to teach guests some ballroom moves inspired by underwater creatures.
---
Dinglehopper Decorating Party
Create an interactive craft activity by hosting a Dinglehopper Decorating Party! Provide guests with plain forks (preferably plastic) and a variety of decorations such as beads, wire, and s ribbon to turn their ordinary utensils into magical "dinglehoppers." Display the finished creations for all to see and let guests take their custom dinglehoppers home as souvenirs.
---
Mermaid and Mermen Fashion Show
Invite guests to channel their inner mermaids and mermen by organizing a fashion show for your celebration. Encourage attendees to dress up in their most creative and extravagant mermaid and merman outfits. Set up a runway and let guests strut their stuff while a designated judge or panel awards prizes for categories like "Most Creative," "Best Under-the-Sea Accessory," or "Most Elegant."
---
Underwater Photo Booth
Set up an underwater-themed photo booth with various props and backdrops for guests to enjoy. Provide items like mermaid tails, seashell crowns, tridents, and other sea-inspired accessories to create fun and memorable photos. Offer an instant camera or hire a photographer to capture the magical moments throughout the event.
---
DIY Seashell Jewelry Station
Create a DIY seashell jewelry station where guests can design their unique accessories. Provide seashells, beads, pearls, other ocean-inspired materials, and the necessary tools for crafting necklaces, bracelets, and earrings. This activity entertains guests and allows them to take home a beautiful, personalized memento of the party.
---
Aquarium Adventure
If you're near an aquarium, consider hosting your Little Mermaid-themed party at this unique venue. Guests can explore the aquatic exhibits and marvel at the various sea creatures while enjoying the magical under-the-sea atmosphere. Coordinate with the aquarium staff to provide a private party area where you can serve themed refreshments and organize other mermaid-related activities.
---
Seashell Painting and Decorating
Set up a seashell painting and decorating station for guests to enjoy. Provide a variety of seashells in different shapes and sizes, along with paint, glitter, and other embellishments. Guests can let their creativity flow as they personalize their seashells, which you can later display at the party or take home as a unique souvenir.
---
Mermaid Mocktail Bar
Create a mermaid mocktail bar where guests can mix and customize their non-alcoholic beverages. Offer a variety of colorful, ocean-inspired ingredients such as blue raspberry syrup, green fruit punch, and sparkling water. Provide fun garnishes like fruit skewers, edible glitter, and paper umbrellas for guests to complete their refreshing and magical concoctions.
---
Message in a Bottle Guestbook
Instead of a traditional guestbook, have guests write their well-wishes or favorite memories from the party on small paper scrolls. Provide a large glass bottle for them to place their messages inside, creating a unique and interactive "message in a bottle" keepsake for the host or guest of honor.
---
Mermaid Storytime Session
Invite a professional storyteller or enlist a talented friend to dress up as a mermaid and read enchanting ocean-themed stories to the party guests. Select age-appropriate books like classic fairy tales or modern stories featuring mermaids and other sea creatures. This activity can provide a calm and magical moment during the party and inspire guests' imagination.
---
Ocean-Themed Charades
Play a round of ocean-themed charades to entertain guests and test their knowledge of aquatic life and The Little Mermaid characters. Prepare a list of under-the-sea related words, phrases, or movie scenes for guests to act out while others guess. You can tailor this fun and engaging game to fit the age and interests of the party attendees.
---
Under-the-Sea Puppet Show
Organize an under-the-sea puppet show featuring mermaids, sea creatures, and other aquatic characters. You can hire a professional puppeteer or create a DIY puppet theater with handmade or store-bought puppets. This entertaining performance can captivate guests and bring the magic of the underwater world to life.
---
Aquatic Trivia Contest
Prepare a list of questions about The Little Mermaid, marine life, and ocean facts. Divide guests into teams or have them compete individually, awarding points for correct answers. Offer themed prizes or awards to the winners for added motivation and fun.
---
Have you found some unique themes and fun Little Mermaid Party Ideas?
With these Little Mermaid-inspired party ideas, any celebration is bound to be a magical and memorable event. Whichever activities and themes you choose, your guests will surely be impressed by the creativity and thoughtfulness put into your birthday celebration. So dive in and watch the magic happen!
This Post is all about find the best Little Mermaid Party Ideas
More Ideas from this Category