Are you ready to return in time to the days of grunge, neon, and crop tops? What better way to pay respect to the '90s' colorful fashion and beauty choices than with a '90s-inspired Halloween makeup look?
Are you sick of wearing the same Halloween costumes year after year? Do you want to be noticed for your makeup talents and stand out? Look no further than the 90s Halloween Makeup! The 1990s were a time of big fashion and cosmetic statements, and you can recreate that decade this Halloween by replicating some of the most famous makeup styles.
The 90s had everything, from grunge to rave, and we're here to teach you how to recreate those styles. In this article, we'll lead you through step-by-step directions, tips, and techniques for three different 90s makeup looks that are excellent for Halloween. But first, we'll go through the specifics of what 90s makeup looks like and its basics.
Prepare to kill this Halloween with our complete guide to 90s Makeup for Halloween, which includes step-by-step directions, tips, and techniques for recreating legendary 90s looks.
You can recreate that legendary era this Halloween by replicating some fabulous makeup looks. So grab your makeup bag, and let's get started!
DISCLOSURE: SOME OF THE LINKS IN THIS POST ARE AFFILIATE LINKS. THIS MEANS IF YOU CLICK ON AN AFFILIATE LINK AND PURCHASE THE ITEM, I WILL RECEIVE AN AFFILIATE COMMISSION AT NO EXTRA COST TO YOU. ALL OPINIONS ARE MY OWN AND I ONLY RECOMMEND PRODUCTS OR SERVICES I BELIEVE WILL ADD VALUE TO MY READERS. SEE FULL DISCLAIMER HERE.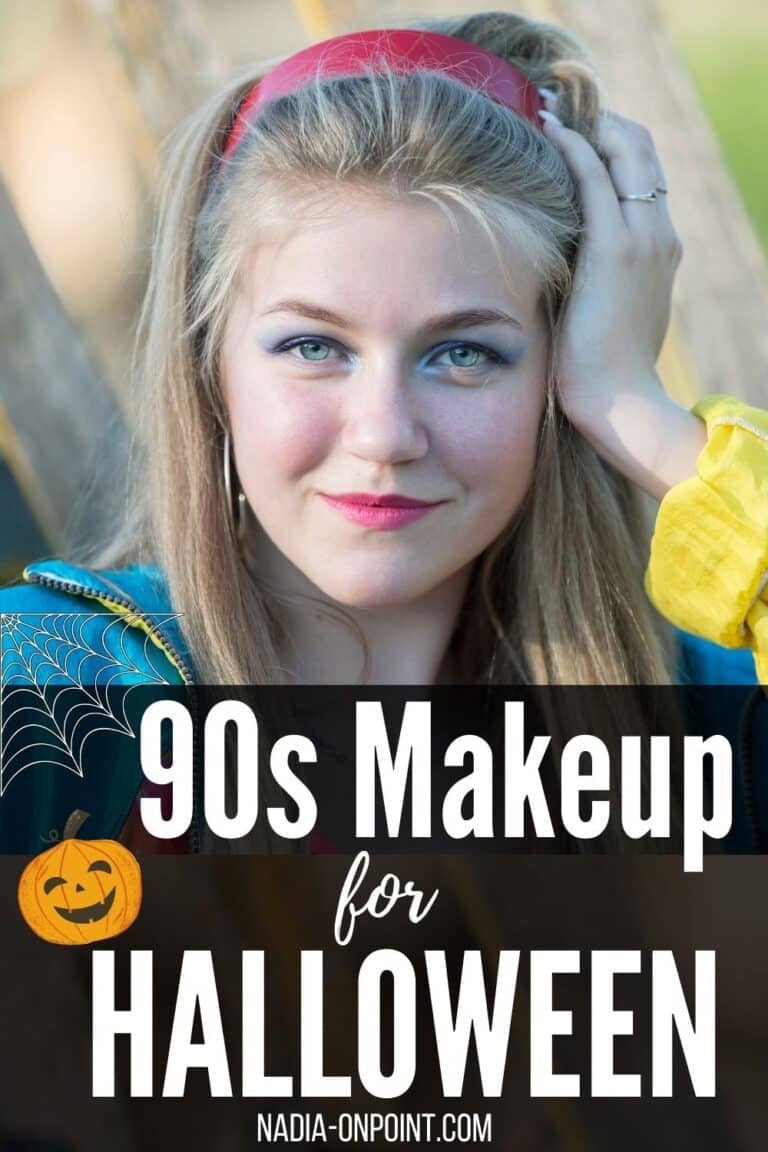 What was makeup like in the 90s?
Since we need to know what makeup was like in the 90s to recreate that look, here we go.
The 1990s were a decade of makeup experimentation and uniqueness. Heavy foundation, matte skin, strong brows, and vivid lips were all popular. Bright eyeshadow was frequently used and blended out for a smokey look. Glitter and metallics were also popular for providing a touch of luxury.
What was the most popular makeup look in the 90s?
The grunge look was one of the most iconic makeup styles of the 1990s. Dark, somber colors and thick eyeliner were the focus of this look. Consider smeared black eyeliner, deep red lips, and a matte finish. Famous grunge-inspired makeup styles included Drew Barrymore, Winona Ryder, and Courtney Love.
The pop princess style was another prominent aesthetic in the 1990s. The emphasis was on vibrant colors and glitter. Consider the use of blue eyeshadow, pink blush, and frosted lips. Pop-inspired makeup trends were popular among celebrities like Britney Spears, Christina Aguilera, and the Spice Girls.
How do you do 90s makeup?
Now that we know what the makeup trends in the 90s were, let's see how we can wear the 90s-inspired makeup look today.
Begin with a matte base to get a 90s makeup look for Halloween. To get a perfect canvas, use a full-coverage foundation and concealer. Next, use a bright or intense eyeshadow to cover your whole lid and smooth it out towards the crease. In the crease, use a darker hue to give depth.
Use a lot of black or dark brown eyeliner. Smudge a pencil liner along your top lash line and waterline. Apply a couple of coats of mascara to your full lashes to finish.
Choose a bright color for your lips, such as crimson, plum, or brown. Matte finishes were trendy in the 1990s, so go for matte lipstick or a matte lip liner.
Not enough? Alright, alright. Let's see how we can style every part of your face to recreate the 90s makeup for this Halloween.
Eye Makeup for Halloween
The '90s were all about big, bold eyes. Begin with a neutral eyeshadow foundation, and then add a deeper hue to add depth. Line your upper and lower lash lines with black or brown eyeliner, then blend it with a smudger brush for a smokey appearance. Finish with a couple of coats of mascara to give volume and length to your lashes.
---
90s Face Makeup for Halloween
A flawless, matte complexion is essential for attaining the ultimate '90s makeup look. Begin by using a mattifying primer to ensure that your makeup stays on all night. Next, mask any flaws or defects using a full-coverage foundation and concealer. To avoid shine, set your foundation and concealer with a translucent powder.
---
90s Blush!
The 1990s were the decade of blush overload. The more blush you have, the better! Apply a matte blush in a warm, peachy color to the apples of your cheeks to attain this effect. Don't be hesitant to use a lot of blush since this was all the trend back in the day.
---
Lips
Bold lips were a '90s cosmetic trend standard. For this look, use matte lipstick in a deep, rich color like burgundy, dark red, or brown. If you like a glossy appearance, use a clear lip gloss over your matte lipstick for extra shine.
---
The 3 Picked 90s Halloween Looks:
Let's dig into the three Halloween looks inspired by the 90 makeup.
Rave Queen
If you want to go all out for Halloween this year, summon your inner rave queen. The rave culture in the 1990s was all about neon colors and striking makeup, so prepare to stand out with this look:
Apply a neon-colored, glittery eyeshadow (think pink, blue, or green) all over your eyelids, blending it outwards towards your temples.
Line your lower lash line with a white eyeliner pencil, then line your upper lash line with a bright-colored eyeliner (a different color than your eyeshadow).
Coat your top lash line with artificial lashes and mascara.
To finish the look, apply bright, dramatic lipstick in a complementary color.
To finish, use matte brown or nude lipstick.
Pro Tip: Use a neon-colored hair extension or wig to take your rave queen look to the next level.
---
Grunge Goddess
The 90s grunge trend was focused on seeming carefree and edgy. Follow these steps to recreate this look for Halloween:
Begin by cleansing and moisturizing your face.
Use a matte foundation that complements your skin tone.
Make a smokey eye using a brown or taupe eyeshadow, blending it outwards towards your temples.
Smudge your upper and lower lash lines with black eyeliner for a more lived-in look.
Apply two coats of black mascara to the top and bottom lashes.
To finish the look, use matte brown or nude lipstick.
Pro Tip: Add some fake freckles using a brown eyeliner pencil to give your grunge goddess look a more natural touch.
---
Spice Girls
Who didn't like the Spice Girls back in the day? Not only did this renowned female trio have incredible dancing skills, but they also had outstanding cosmetics styles. Here's how to get a Spice Girl-inspired Halloween look:
Use a matte foundation that complements your skin tone.
Create a lovely smokey eye look with a warm brown eyeshadow, blending it outwards towards your temples.
Apply black eyeliner to your top lash line, flicking it outwards at the end for a delicate cat-eye look.
Coat your top lash line with artificial lashes and mascara.
To get Posh Spice's full pout, use nude lipstick and lip liner.
Pro Tip: Don't forget to add some bronzer and highlighter to your cheekbones for that Spice Girls glow.
---
Did you enjoy these 90s Makeup for Halloween Tips?
That concludes our comprehensive guide to sporting 90s Makeup for Halloween! We hope this tutorial has given you the inspiration and confidence to create a show-stopping Halloween makeup look, whether you choose for a grunge goddess, rave queen, or Spice Girl-inspired look. The '90s makeup look is the ideal approach to pay respect to a legendary period of fashion and beauty. Follow these steps to get the perfect '90s makeup look for Halloween and have a great time partying in style!
Remember that the secret to nailing any 90s makeup look is to have fun with it and embrace the era's vibrant, edgy vibe. So grab your makeup bag, crank up some 90s tunes, and get ready to slay Halloween with your killer makeup skills!
FAQs
How can I make my 90s makeup last all night?
Start with a decent primer to produce a smooth base for your 90s makeup to last all night. Use long-lasting makeup and finish it with a setting spray or powder. You can also bring a touch-up kit for any touch-ups that may be required throughout the night.
Can I combine multiple 90s makeup looks?
Absolutely! The beautiful thing about 90s makeup was that it encouraged experimentation and originality. Feel free to combine parts from each style to create your own one-of-a-kind Halloween makeup.
What more accessories can I use to complete my 1990s cosmetics look?
Don't be afraid to add interesting items to your Halloween costume since the 1990s were all about accessories. Consider wearing a choker necklace, big earrings, or a bright bandana in your hair.
This post is all about creating unique 90s Makeup for Halloween
More Ideas from this Category