Halloween is just around the corner and if you're still looking for creative nail art ideas, You've come to the right place!
Coffin Halloween Nails are super trendy today. Many celebrities such as Rihanna or Kim Kardashian are seen having their nails done in coffin shape, thus making it even more famous for Halloween and casual outings. I mean, they look good!
This Halloween, get your nails done in coffin design at home. They look like they would be hard to do, but they aren't! You can make your very own coffin nail in just 10 minutes from start to finish.
DISCLOSURE: SOME OF THE LINKS IN THIS POST ARE AFFILIATE LINKS. THIS MEANS IF YOU CLICK ON AN AFFILIATE LINK AND PURCHASE THE ITEM, I WILL RECEIVE AN AFFILIATE COMMISSION AT NO EXTRA COST TO YOU. ALL OPINIONS ARE MY OWN AND I ONLY RECOMMEND PRODUCTS OR SERVICES I BELIEVE WILL ADD VALUE TO MY READERS. SEE FULL DISCLAIMER HERE.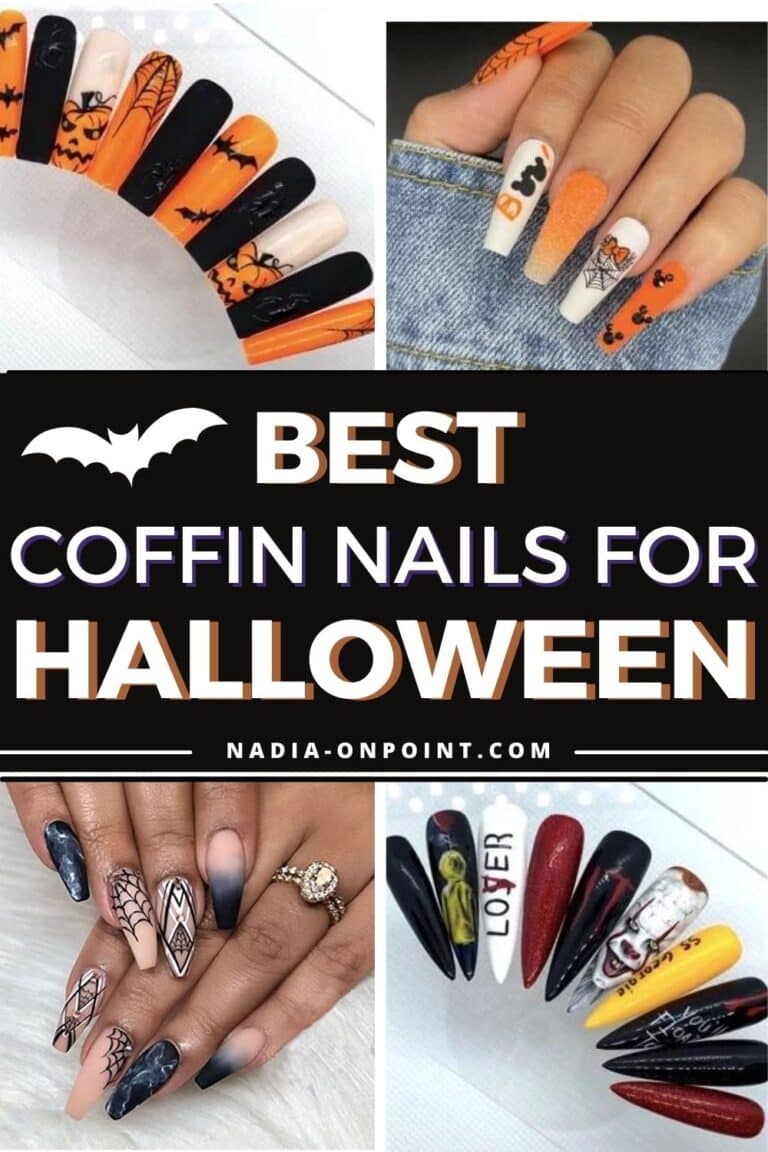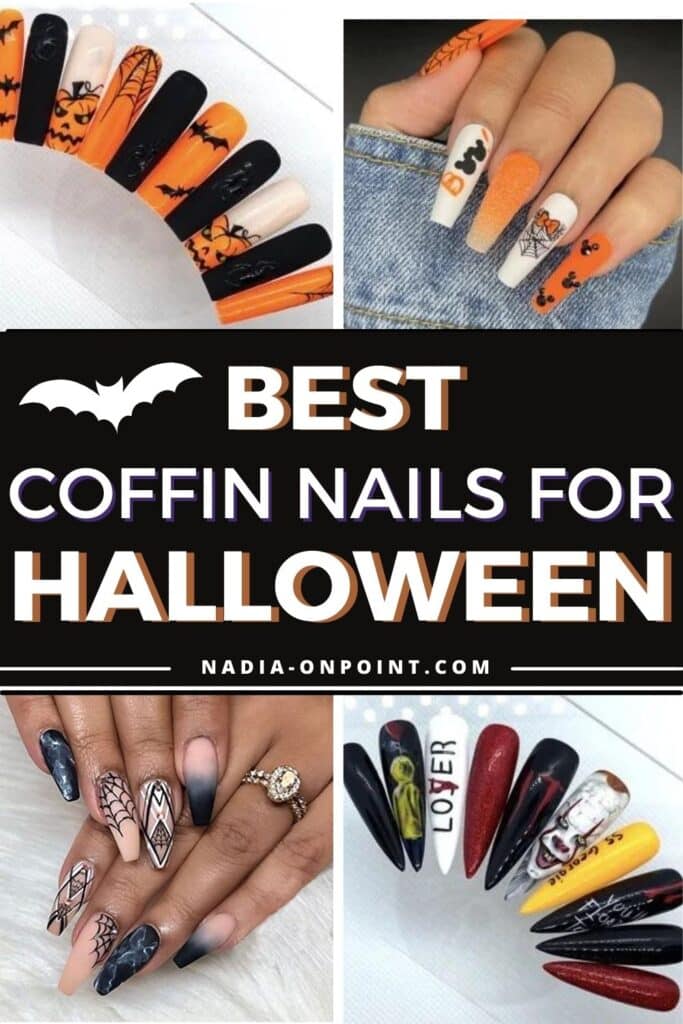 What are Coffin Nails?
Coffin Nails get their name from the coffin shape they create on your nails when you shape them in that manner. Ideal for getting the coffin form is your naturally long nails. However, if you cannot grow your nails for so long, don't worry; there are many false nails out there to choose from!
Check out the following options:
---
Given the enormous popularity of these nails, it makes sense that there would be a considerable amount of inquiries regarding how to create the ideal coffin nails, whether on natural nails or false nails.
You can get different designs, colors, sizes, and shapes of coffin nails. The most common material for coffin nails is acrylic gel because it's easy to work with and lasts longer than other materials.
You may always use acrylic gel to lengthen your natural nails and make them more durable.
The way these nails look in the end is unique and exciting because of their sharp edges and color scheme. This article will help you prepare your coffin nails for Halloween at home!
You can also check out this video below on how to apply acrylic for beginners.
Steps for Coffin Halloween Nails
You can shape coffin nails on natural nails, but natural nails are vulnerable to breakage; hence it is better to use acrylic nails. Follow the following steps to shape acrylic/ natural nails.
Make a little dot bang in the middle of your nail using manicure paint. For nail shape and trimming, use this dot as a guide.
To form your nails into a coffin, gradually begin to trim them. Keep the center in mind, and don't make the edges too sharp.
Start filing the nail's sidewalls as soon as you are satisfied with the form.
Gently work towards the nail's core while filing both sides using the dot as a guide. Make sure both sides of the filing are even.
Once satisfied with the tapered sides, cut the tip straight through with the nail clippers.
To get a flat tip, gently file the raw edge. Keep the edges crisp; else, the coffin form won't stand out.
Apply a base coat evenly to the nail bed once you obtain the appropriate shape. Don't forget to use an LED lamp if you have one. Always use a topcoat to protect the polish.
DIY Halloween Nail Designs
Below are some spooky Halloween coffin nail designs you can make on your freshly shaped coffin nails.
Orange base with a black creeping spider on top or bottom of your ring finger nail and all other nails painted pitch black with white webs on them.
Simple and chick white background nails with dripping blood from the top of your nails towards the nail beds.
Nude base and ghosts roaming around.
All the designs listed above give off the spooky energy you would love for Halloween.
You can add beads and use glitters to give extra glam to your nails.
Here are some options to check out!
---
If applying acrylic or shaping your natural nails isn't for you, you can always get the press-on/ glues on nails. They are so easy to put on, and tons of designs are available to give you an ultimate scary look.
80s Vibes Coffin Nails
These 80's aesthetic nails will be the perfect choice if you plan to dress up in an 80's costume or 80's makeup for Halloween this year. 80's costumes are trendy today due to the popularity of series like Stranger Things, and everyone just can't get enough of the retro style.
---
Movie Inspired Coffin Nails
If you are a Movie fanatic and love horror movies, you will love these nail designs. They are trendy, impressive, and scream Halloween!
---
There you have it, some of the best Coffin Halloween Nail designs for Halloween.
Nail art is a form of self-expression and can be very fun. From spooky ghosts to Stranger things and pumpkins, I hope this article has inspired you with some stunning Halloween-themed nails that will make your friends jealous. Coffin Nails will always be an excellent choice for Halloween and make your nails stand out from any other designs.
This Post is all about applying Coffin Halloween Nails to add a bit of spooky fun to your Halloween look.