Whether you're in a long-term relationship and looking to rekindle some romance or a budding new couple planning your first date, finding new and exciting things to do together can be challenging. Most couples are usually content to Netflix and chill every Friday night, but for those looking for something a little more sophisticated, we've put together some super fun romantic date night ideas for you to try.
Whether you're the outdoorsy type, the adventure type, or even if you just like to get creative in the privacy of your own home, this list has something for everyone.
DISCLOSURE: SOME OF THE LINKS IN THIS POST ARE AFFILIATE LINKS. THIS MEANS IF YOU CLICK ON AN AFFILIATE LINK AND PURCHASE THE ITEM, I WILL RECEIVE AN AFFILIATE COMMISSION AT NO EXTRA COST TO YOU. ALL OPINIONS ARE MY OWN AND I ONLY RECOMMEND PRODUCTS OR SERVICES I BELIEVE WILL ADD VALUE TO MY READERS. SEE FULL DISCLAIMER HERE.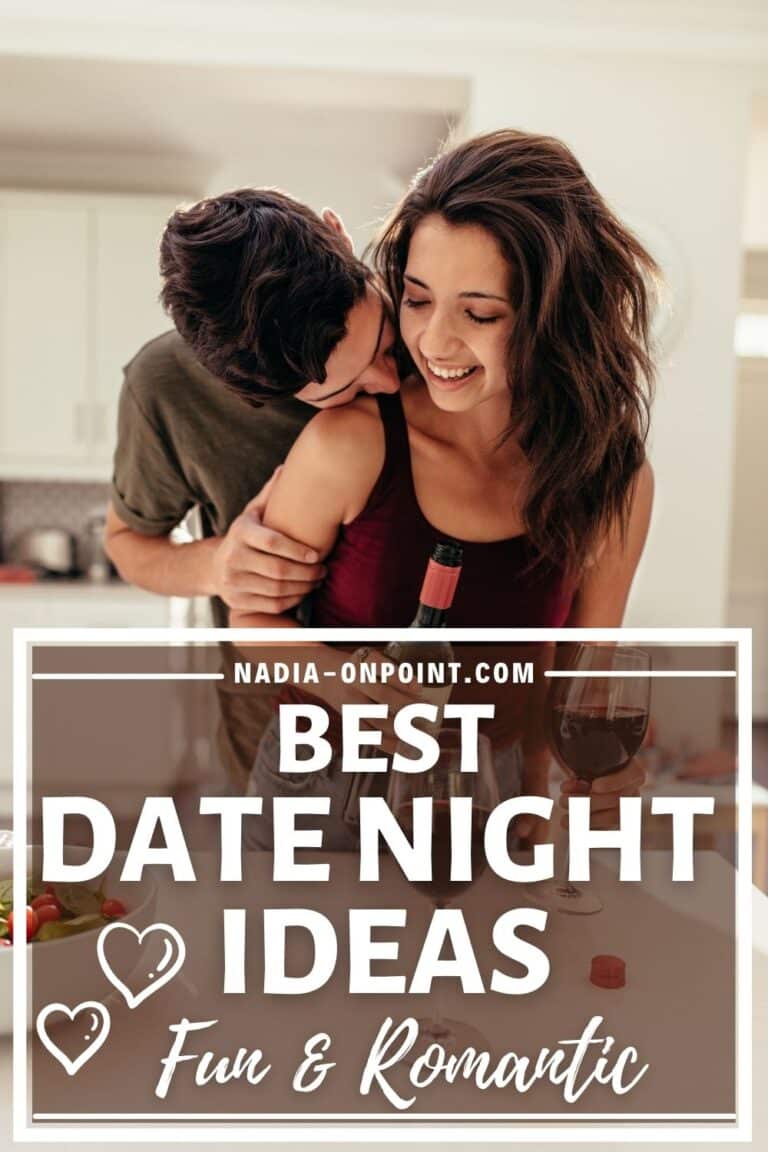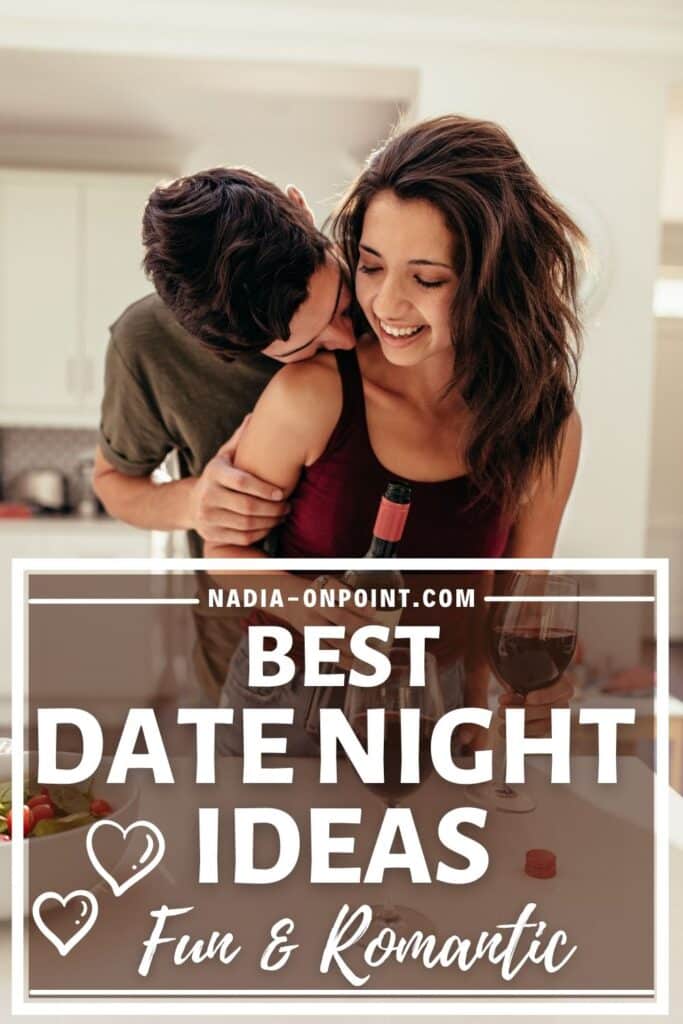 If You Think Date Night Isn't Important, Think Again
Date night is essential for keeping the spark alive in any relationship. It's a time to focus on your partner without the distractions of work, kids, or social media. It's a time to reconnect and remind each other why you fell in love in the first place.
It can be easy to let date night fall by the wayside when life gets busy but making it a priority is crucial for maintaining a healthy and happy relationship.
Date night doesn't have to be an elaborate affair. It can be as simple as going for a walk together or cooking dinner at home. The important thing is that you're taking the time to focus on your relationship.
Exciting Alternatives to Dinner and a Movie
Dinner and a movie is a classic date night activity. Although it's fun to have a cozy movie night, sometimes it can be fun to get out of your comfort zone and try something you might not have thought about doing before.
Here are a few fun alternatives to dinner and a movie to help up your date night game.
Moonlight Walk and Coffee Trivia
Take a romantic stroll under the stars and then test your knowledge of coffee facts with this fun and unique date night.
Start by taking a walk together in a local park or nature reserve. Make sure to bring along a blanket so you can snuggle up close when you stop for a break. After working up an appetite, head to a nearby coffee shop for some trivia fun.
This date idea is the perfect mix of romantic one-on-one time and going out on the town.
Drive-in Movie
Take a throwback to the 1950s with this classic date night.
Plan ahead by finding a drive-in movie theater in your area and buying tickets in advance. Make sure to pack some snacks (Here's an Ultimate Pack) and drinks to enjoy during the film. Drive-in movies are an excellent opportunity to get cozy in the front seat of your car (or the bed of a truck) and cuddle up close.
Roller Skating
Get your retro on with this fun date idea.
Roller skating is a great way to get active and have some laughs together. Find a local roller skating rink and spend the night skating around hand-in-hand. If you're feeling daring, try doing some couples skate moves.
Take a Cooking Class
This date is perfect for couples who love to eat.
Find a local cooking or baking class and sign up for a session together. Taking a cooking class is a great way to learn something new while spending time with your partner. You can even take the food home with you and enjoy it later.
Go Pub Crawling
This date is perfect for couples who have an appreciation for alcohol.
Pub crawling is a great way to try new drinks and explore different parts of town. Start off at your favorite local bar, and then make your way to a few other bars in the area. Just be sure to pace yourself so you don't get too drunk to finish the date.
Get Out into Nature
For those of you outdoorsy types, these date ideas are for you. Create fond memories and bond with your partner while enjoying the great outdoors.
Go Kayaking/Paddleboarding
Get out on the water for a day of fun and adventure.
This date is perfect for couples who love being active and spending time outdoors. Just be sure to check the weather in advance, so you don't accidentally get stuck in a thunderstorm.
Have a Picnic in the Park
This is a classic date for a reason.
Find a beautiful spot in your local park and spread out an outdoor blanket for a romantic picnic lunch or dinner. Be sure to pack some of your favorite foods and drinks, and don't forget the insect repellent if it's summertime.
Go to an Outdoor Concert
For music lovers, this date is for you.
Outdoor concerts are a great way to enjoy live music while getting some fresh air. Check out your local concert listings and find an outdoor show to attend together. Just be sure to pack some snacks and drinks, so you don't have to buy overpriced concessions at the venue.
Go Rock Climbing
This date is perfect for couples who are looking for a little thrill.
Rock climbing is a great workout and a fun way to challenge each other. If you live in a place where outdoor rock climbing is available, try giving that a shot! Alternatively, you can find a local rock climbing gym and spend the day scaling walls together.
Go Skydiving and Knock It Off Your Bucket List
For couples looking for an adrenaline rush, skydiving is the perfect date.
If you're one of the few people who have skydiving on their bucket list and plan to go through with it, now is your time to shine. Nothing says romance like free-falling through the sky together.
Get Creative at Home
Date night at home doesn't have to be boring. There are tons of creative ideas for couples who prefer a night in instead of going out on the town. Here are some indoor date ideas to add to your list.
Create Your Own Cocktails
For couples who enjoy a good drink, this date is for you.
Get creative in the kitchen and come up with your own unique cocktails. You can even make them themed to go along with a movie or TV show you're watching. If you're feeling really adventurous, try making some homemade bitters to add to your drinks.
Cook a Meal from Appetizer to Dessert
If you're a foodie couple, this date is for you.
Cooking a meal together is a great way to spend some quality time with your partner. Start with appetizers, then move on to the main course, and finish with dessert. Cooking together is a great way to try new recipes and bond over your shared love of food.
Game Night
Game night is the perfect date for couples who like to keep things light and fun.
Having a game night is a great way to spend an evening laughing and joking with your partner. You can either play some of your favorite games or try out some new ones. You can play fun guessing games like HedBanz, or funny card games like What Do You Meme.
Build a Pillow Fort and Have a Movie Marathon
This is the perfect date for couples looking for a cozy night in.
Build a fort out of pillows and blankets, and then snuggle up inside with your partner to watch some of your favorite movies. Don't forget the popcorn!
Building a pillow fort and having a movie night is a great way to relax and spend some quality time together.
Play a Video Game Together
For couples who are into gaming, this date is for you.
Whether you're playing some of your old favorites or trying out something new, spending some time gaming together is a great way to bond with your partner. There are tons of fun multiplayer games out there to enjoy with your date.
For Those With Expensive Taste
For those of you who like to splurge a little on date night to give it some extra flair, here are some ideas for you.
Go Wine Tasting
If you and your partner are fans of wine, you should definitely add this one to your list.
Wine tasting is a great way to learn about different types of wines. You may even find some new favorites! Visit a local winery or go to a wine tasting event and sample some new wines together. You can even make a day trip out of it and visit some vineyards.
Go to a Luxury Spa
For couples looking to relax and rejuvenate, a trip to the spa is the perfect date.
You can enjoy massages, facials, and other treatments together. Going to the spa is a great way to unwind and pamper yourself.
Get Dressed Up and Go to a Nice Restaurant
For those of you who enjoy getting all dressed up, this date is for you.
Go to a nice restaurant and enjoy feeling boujee for the evening. Splurging on dinner is a great way to treat yourself and your partner. You can try fancy cocktails or order a nice bottle of wine to go along with your meal.
Rent a Boat for the Evening
For couples who love being out on the water, this date is for you.
Going boating in the evening is relaxing and romantic. Rent a boat for the evening and enjoy some time together on the open water. You can bring a picnic and have a nice, romantic, candlelit dinner on board as well.
Day Trip and Dinner in Another City
For couples who are looking for a mini-adventure, this date is a must.
Take a day trip to another city and explore all it has to offer. Then, finish the day with a nice dinner at a local restaurant. Taking a day trip is a great way to get out of your comfort zone and try something new together.
Final Thoughts
Date nights are important for the health and longevity of relationships. Whether you like to go out on the town or spend a night snuggled in blankets, there are plenty of date ideas to try.
So don't be boring, try something new. Reconnect with your partner and remind them how important they are to you. They will no doubt appreciate you putting in the effort to make your date night fun and different. This article originally appeared on Hello Sensible.
Robyn is a millennial mom with a passion for personal finance. She has her MBA and has been studying Personal Finance on her own for as long as she can remember. She has always been "into" personal finance but got inspired to start her blog after a period of extended unemployment. She says that experience really changed the way she viewed her relationship with money and the importance of accessible personal finance education. Read more at A Dime Saved.