It's the time of the year again, and I'm guessing you've got some big plans for the New Year's Eve Party.
With New Year's Eve right around the corner, you must be wondering about the best New Year's Eve Party Ideas & decorations to impress your guests. Whether you're planning a small get-together or a large bash, we've got some great ideas to help make your party memorable!
As with any party, there are a few things you'll need to take care of beforehand. So let's talk about how you can get everything ready for a fun and festive New Year's celebration!
DISCLOSURE: SOME OF THE LINKS IN THIS POST ARE AFFILIATE LINKS. THIS MEANS IF YOU CLICK ON AN AFFILIATE LINK AND PURCHASE THE ITEM, I WILL RECEIVE AN AFFILIATE COMMISSION AT NO EXTRA COST TO YOU. ALL OPINIONS ARE MY OWN AND I ONLY RECOMMEND PRODUCTS OR SERVICES I BELIEVE WILL ADD VALUE TO MY READERS. SEE FULL DISCLAIMER HERE.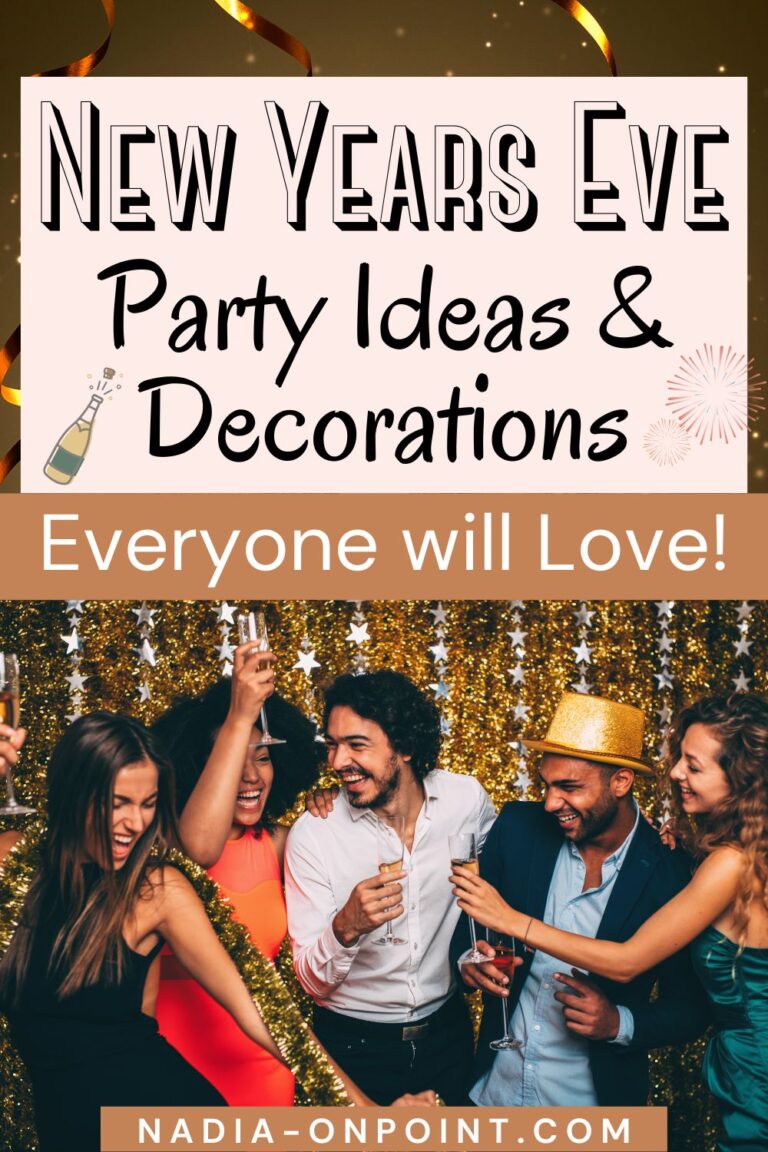 1. Choose an appropriate New Years Eve Party theme
If all of your guests are adults, you can be a little more creative with your party theme. For example, you could have a black and white party or a '20s-themed party. On the other hand, if you're inviting children to your New Year's party, you'll want to choose a theme that is appropriate for them. For example, you could have a Disney or Pixar-themed party.
Here are some 20's-theme Party supplies and decorations that will make your party feels like The Great Gatsby Party.
You may not want to choose a theme, and that's completely fine! You can still decorate your home and have a great party without one.
2. Keep safety in mind when You're decorating
People tend to drink a little too much on New Year's Eve, so you'll want to ensure that your decorations are safe. Avoid using candles or anything else that could be a fire hazard.
You also want to ensure that loose decorations are secured, so they don't pose a tripping hazard. It's surprising how much havoc something can cause when people have had too much to drink.
3. Make homemade decorations to give your party a personalized touch
Sure, you can go to a party shop and buy all your decorations, but where's the fun? Get creative and make some of your own!
You can find a ton of great DIY decoration ideas online. Here are some awesome supplies you may need for your unique DIY New Year decorations!
4. Set up a photo booth
What's a party without some photos for great memories? Set up a photo booth so your guests can snap fun photos at the party.
You can either DIY your photo booth or rent one from a party rental company. Either way, it's sure to be a hit with your guests!
Wait, there is more; to create this unique aesthetic, you can also set up a cute Polaroid corner with this trendy polaroid camera, some photo booth props, and some pretty strings.
5. Get the music ready
No party is a party without some great music. Mix fast and slow songs so your guests can dance the night away.
If you're unsure what songs to play, you can always ask your guests for suggestions. Chances are, they'll have some great ideas!
I have some recommendations that will surely put everyone in the New Year Mood and spirit.
I Gotta Feeling – Black Eyed Peas
Uptown Funk – Mark Ronson, Bruno Mars
I wanna Dance with Somebody – Whitney Housten
Don't Stop Believin' – Journey
Let's Get Loud – Jennifer Lopez
Celebration – Kool & The Gang
Heartbreak Anthem – David Guetta, Little Mix
A-O-K – Tai Verdes
Roses Imanbek Remix – SAINt JHN
Jerusalema – Master KG
Where Are You Now – Lost Frequencies, Calum
6. Have some fun games planned
Games are a great way to keep your guests entertained. Games can be a lot of fun once the booze starts to flow.
Some great game ideas include charades, Pictionary, and trivia. So break out the Twister and a bottle of cooking oil, and you'll indeed have a good time!
Here are some Fun Games for the New Year
7. Keep the drinks flowing
What is New Year's eve party complete without booze? Ensure you have plenty of drinks so your guests can keep their glasses full.
You'll also want to make some non-alcoholic options for those driving or who don't drink.
Now, let's get to the nitty-gritty and talk about the decorations.
New Years Eve Party Decoration Ideas
You already know how to throw a party. You've prepared plenty of food, games, and entertainment to keep people happy. However, a little decoration can go a long way in making your party more festive and fun.
Here are some great decorating ideas to get you started:
1. Get some sparklers
Sparklers are a must for any New Year's Eve party. They're fun, they're festive, and they make for great photos.
2. Put up some Streamers
Streamers are a classic party decoration. They're cheap, easy to put up, and always look great.
If you want to get fancy, you can get streamers in different colors and put them up in a pattern.
Check out these cute and decorative streamers.
3. Blow up some balloons
Balloons are another classic party decoration. They're great for filling up space, and they always look festive.
Whatever you do, don't forget the balloon weights! You don't want your balloons flying away and getting lost.
4. Get some confetti
Confetti is always a hit at parties, especially New Year's Party after the countdown! It'll also look great in photos.
Be prepared to clean up after the party, though. Confetti can be a pain to clean up if you let it get out of control. It's days like these where you'll appreciate having a Roomba Robot Vacuum Cleaner!
5. Buy a disco ball
Okay, this one is a bit of an investment. But trust me, it's worth it.
A disco ball will take your New Years' eve party ideas to the next level. It's guaranteed to get people dancing and having outstanding photos later.
Who doesn't love to dance under a disco ball?
6. Decorate your house with whatever animal it is in the New Year
If you are familiar with the Chinese New Year, you would know that every year has an animal associated with it in the Chinese zodiac. Naturally, some people care about such things, and some don't. But if you want to get festive, you can decorate your house with whatever animal it is in the New Year.
Are you enjoying these New Year's Eve Party Ideas and excited to throw the huge bash?
Go hog wild and get all sorts of decorations. You can even go so far as to get your food and drinks in on the action.
It's all about throwing a party people will remember all year long.
If you're trying to throw a party that people will talk about for months, we're confident you'll do just that with these decoration ideas.
So go forth and party like there's no tomorrow. Because who knows, it might just be! Just keep an eye on people, so they don't drink and drive. And be sure to have a designated driver on hand if necessary.
Many of you will go the simple route and just put up some lights or streamers. And that's perfectly fine. However, if you want to step things up a notch, check out these tips, and you'll be sure to throw a party that everyone will remember.
This Post is all about the best New Year Eve Party Ideas and Decorations