Losing a pet can be a heartbreaking experience. Our pets are like members of the family, so losing them hurts. If you know someone who has lost a pet, you might be looking for a way to show them you care and give them a moment of comfort when they need it. Pet loss gift baskets can be a thoughtful way to show a friend or family member that you're thinking of them.

Create a gift basket to fit the person's needs, whether you want to give a small token of sympathy or many different gifts. Here are ten pet-loss gift basket ideas to show you care and help the person through their grief.
DISCLOSURE: SOME OF THE LINKS IN THIS POST ARE AFFILIATE LINKS. THIS MEANS IF YOU CLICK ON AN AFFILIATE LINK AND PURCHASE THE ITEM, I WILL RECEIVE AN AFFILIATE COMMISSION AT NO EXTRA COST TO YOU. ALL OPINIONS ARE MY OWN AND I ONLY RECOMMEND PRODUCTS OR SERVICES I BELIEVE WILL ADD VALUE TO MY READERS. SEE FULL DISCLAIMER HERE.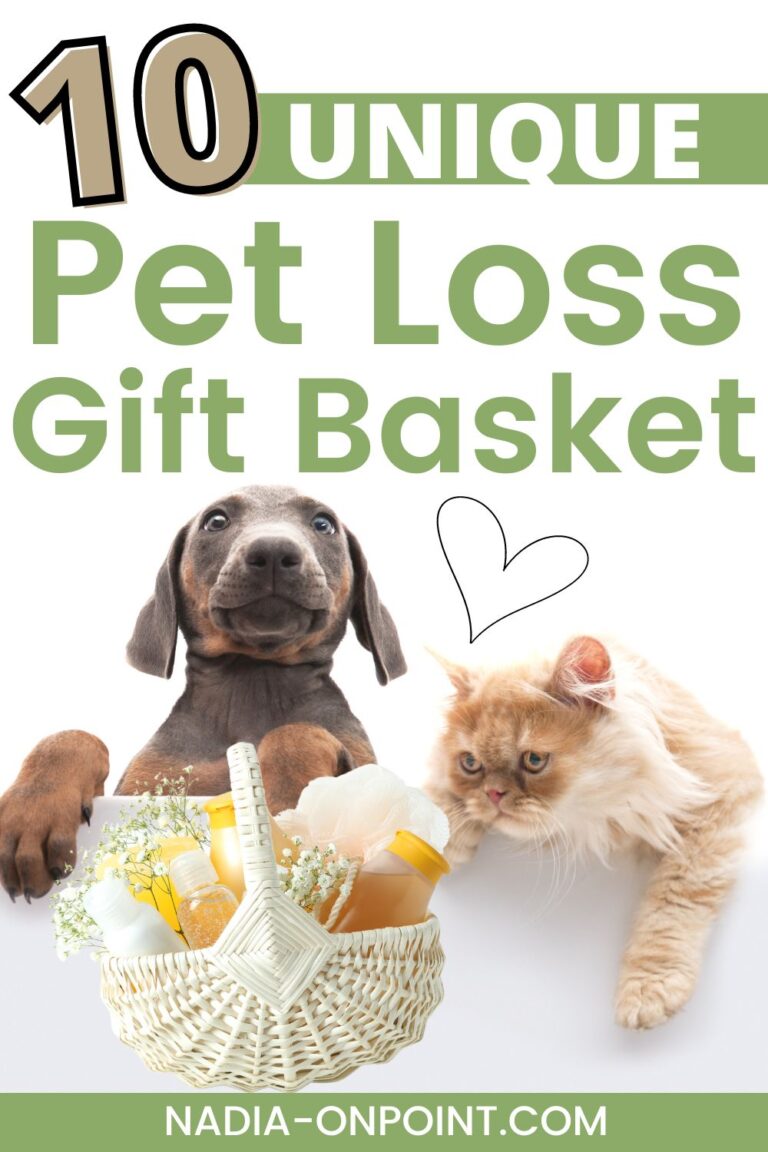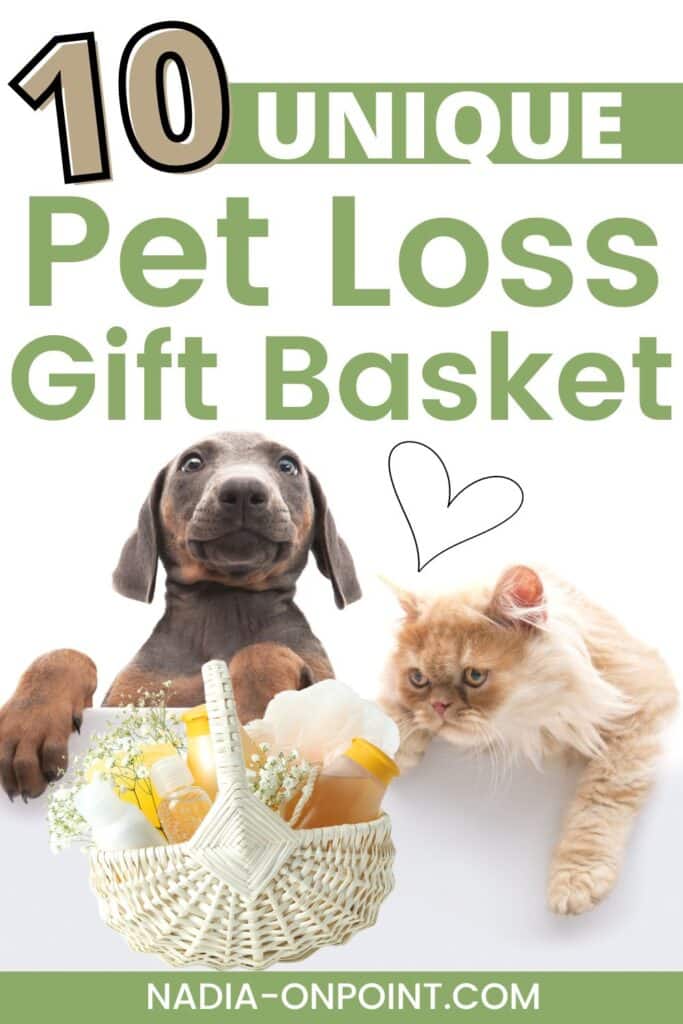 Unique Pet Loss Gift Baskets
A memory box is a thoughtful way to remember and honor a pet you love. It's a clever and unique way to show how much you love your pet and celebrate your special bond with it. You can place items that remind you of your pet and keep their spirit alive in the box.

Start by choosing a special box, like one made of wood or a pretty tin. Then, put things in it that make you think of your pet. It could be something like a picture, a toy, a collar, or a paw print. Add a note you wrote by hand that shows how much you love and appreciate your pet. You can also add a poem or quote that makes you feel better during this challenging time.
---
A pet loss gift basket with a picture frame of a lost pet is a touching and heartfelt way to remember a loved pet and honor the bond between the pet and its owner. The structure will be a treasured reminder of the pet, bringing the grieving parent comfort and joy.

Picture frames are a classic way to hold on to memories, and they make a great addition to a gift basket for someone who has lost a pet. It keeps the love and bond between the pet and its owner alive for a long time. If the lost dog was a mini Goldendoodle and you do not have any picture of it, then you can visit mini Goldendoodle breeders and take photos of them.
---
Plant Pet Loss Gift Basket
Create a gift basket with a houseplant as the center of your gift. A houseplant is an excellent way to remember the pet. It can serve as a living reminder of the pet's life and give the pet owner much-needed comfort. Choose a succulent or air plant that is easy to care for and lasts long. Tell the pet parent how to take care of the plant so it stays healthy and grows.

The potting soil is an essential part of the basket because it has everything the pet parent needs to take care of the plant properly. Include a small shovel or trowel to make moving soil and plants more accessible. Add a note card with a comforting message.
---
Pet-Themed Candle Basket
The pet-themed candle is a great way to add light and warmth to a gift basket for someone who has lost a pet. It's a beautiful way to remember how much we loved and cared for our pets.

The candle with a pet theme has many scents that remind us of our pets. You can choose the calming scent of lavender, the freshness of lemon, the earthy notes of cedarwood, or the warmth of cinnamon. No matter what scent you choose, the pet-themed candle will help people who have lost their pet feel better and find peace.
---
Memorial ornaments are a great way to remember a pet that you love. You can put the pet's name, a special date or phrase, or a favorite saying on them. These lovely keepsakes have many styles, from classic metal to bright enamel. No matter what you pick, it will be a treasured reminder of the happy times the owner had with the lost pet.

Whether you choose a whimsical, elegant, or personalized design, this special keepsake will bring you comfort and happiness. It's also a great way to tell people about the pet. The pet owner who recently lost their pet will be ecstatic when they see your beautiful memorial.
---
A Pet Treat Jar
The pet treat jar is a thoughtful and unique gift that will make anyone who has recently lost a beloved pet smile. Not only will the pet owners feel better knowing that their pet's memory has been honored, but they will also get a unique keepsake that will last forever.
You can add an encouraging message, like "Remembering our beloved pet" or "Celebrating our pet's life." Additionally, you can put all of their pet's favorite treats inside, which is a great way to remember them.
Not only does a pet treat jar remind them of their pet forever, but it also gives them a way to talk about their pet with others. Fill it with treats their pet used to love, and add a photo or other mementos of their pet. This gift will last a lifetime and make them smile whenever they open it.
---
A sympathy card can be a thoughtful and meaningful way to show someone who has lost a beloved pet that you care and is there for them.

There are many kinds of sympathy cards, from severe and heartfelt to funny and lighthearted. Choose the one that fits the person best and has the most meaning for them.
---
A Pet Memorial Stone
The pet memorial stone is a great way to show a loved one that you care about their pet and will never forget it. It's a great way to show how much they care about each other and remember their best friend. It's a beautiful, long-lasting way to remember their furry friend.

These stones have many different sizes and shapes, from small and delicate to big and fancy. They can place it anywhere in their garden, by a tree, or in the backyard.

With a pet memorial stone, they can remember all the good times they had with their pet, and the stone will show how much they loved and cared for their pet no matter what.
---
A wrap, quilt, or cozy fleece may do wonders to comfort a grieving person's soul when the cold winds of grief blow.

Envision a warm blanket with dog or cat paw prints. The soft blanket will comfort them and remind them of the love and friendship their pet gave them.

Including a warm blanket as a sympathy gift for the loss of a pet is a thoughtful gesture. It's a touching symbol of the unbreakable love shared by pets and owners, even in death.
---
A Mixed Pet-Themed Gift Basket
A pet-themed gift box is a thoughtful gesture showing your buddy how much you care about their loss. It's a kind and personal way to show you care and bring comfort during this challenging time.
The first thing in the basket should be a customized remembrance of the pet. It can be anything from a photo frame to a keychain or an ornament. You can also include the following:
A candle to light in memory of your pet.
A book of heartwarming pet poems or stories.
A beautiful bouquet.
You can also fill it with a range of goods that will help bring back memories of the friend's cherished pet. Consider including things like a plush stuffed animal, a mug, or a blanket with a pet on it. Next, provide a few memorable goodies for their pet, like their favorite toy.
Next, include some goods that will assist your friend in unwinding and taking care of themselves. For example, a pack of herbal tea, some slippers, and a candle with a lavender aroma would all be nice.
Next, provide a card and note that conveys your deepest condolences and shows your understanding of the family's loss. Your friend and their pet will appreciate your thoughtfulness.
---
And it's a Wrap! Have you found the best loss of pet gift basket?
With these ten pet-loss gift baskets, you can show your love and appreciation to someone who has lost a special pet.
Whether you choose to fill the basket with things that will make the person laugh or make them feel better, you can be sure that you will make a thoughtful and caring gesture they will surely appreciate.
Don't be afraid to reach out and offer comfort to someone who just lost a pet. It's a hard time, and a little kindness can go a long way.
This Post is about Finding ideas for the best Pet Loss Gift Baskets.
More Ideas from this Category