Are you looking for 19 fun things to do on your 19th Birthday? Look no further, for we've got you covered.
So, you're about to turn 19. Congratulations! You've achieved a significant milestone and deserve to celebrate it. You only turn 19 once, so you might as well make it an unforgettable experience. Whatever you decide, make sure you enjoy yourself and have fun! Here are some fun 19th Birthday Ideas to try out!
DISCLOSURE: SOME OF THE LINKS IN THIS POST ARE AFFILIATE LINKS. THIS MEANS IF YOU CLICK ON AN AFFILIATE LINK AND PURCHASE THE ITEM, I WILL RECEIVE AN AFFILIATE COMMISSION AT NO EXTRA COST TO YOU. ALL OPINIONS ARE MY OWN AND I ONLY RECOMMEND PRODUCTS OR SERVICES I BELIEVE WILL ADD VALUE TO MY READERS. SEE FULL DISCLAIMER HERE.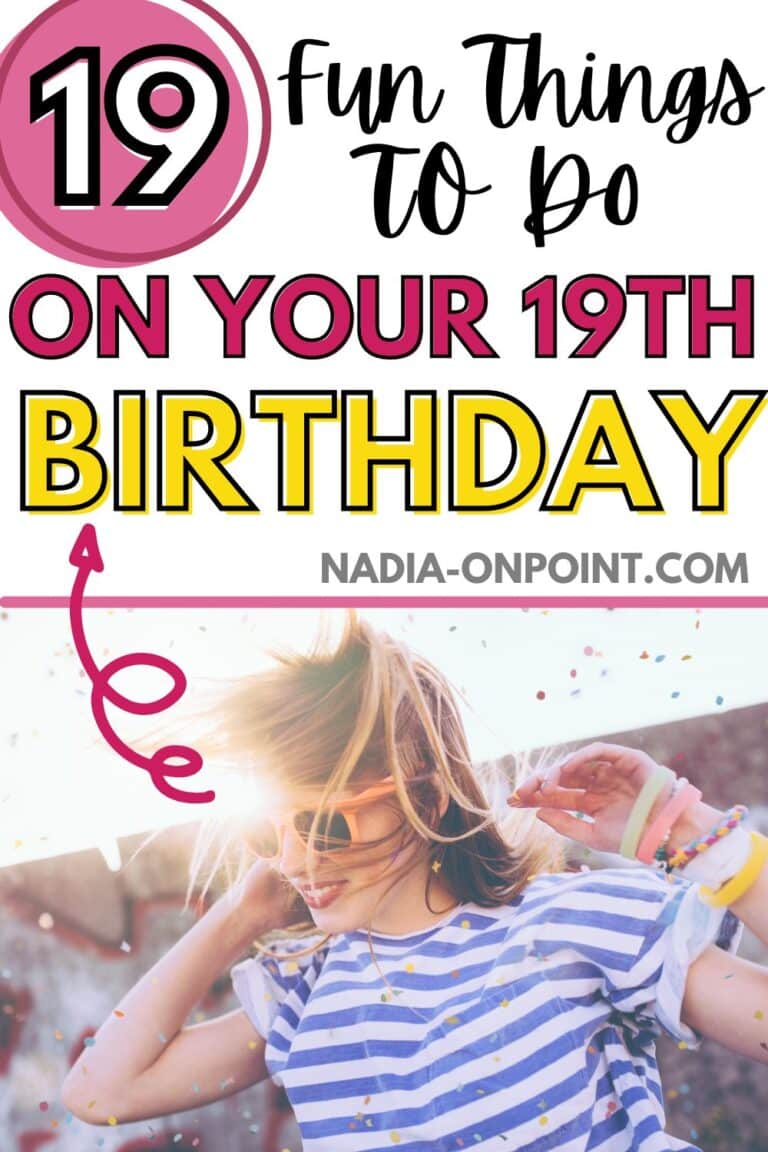 1. Attend a concert
Is your favorite band coming to town on your birthday? If so, make sure to get tickets and go. You'll have a blast listening to their live music, and you'll also get to meet other fans of the band.
Even if it's not your favorite band, if you love some of their music, attend a concert, and enjoy the experience. It's one of those situations where you'll have a great time even if you're not quite sure what to expect.
2. Go on a road trip with friends
If you have friends who are up for an adventure, why not go on a road trip together? You can travel to a nearby city, or you could even go to a completely different state. The possibilities are endless, and the memories you'll make along the way will last a lifetime.
A few good road trip ideas include going to a beach, visiting amusement parks, or seeing the sights in a nearby city. Just make sure you have a plan for where you'll sleep and that you don't mind driving all day.
3. Have a staycation in your city
If you're not feeling up for a big trip, consider having a staycation in your city. Pick a few fun places that you've always wanted to visit and go there.
You could visit a museum, visit the zoo, or head to your favorite restaurant. A staycation is fun because it's like you're on vacation, but you don't have to spend much money or travel far.
4. Throw yourself a party
Who doesn't love birthday parties? If you want to go all out, throw yourself a big bash. Invite friends, family members, and acquaintances if you'd like.
You can make it as simple or elaborate as you want. You could even ask people to bring a dish and turn it into a potluck birthday party.
Another thing you could do is rent an event space and have a party there. Again, the possibilities are endless, so pick what sounds like the most fun for you.
---
Related: Birthday Ideas: 21 Killer Ways to Celebrate
---
5. Go shopping
If you love to shop, consider doing that on your 19th birthday. You will have fun going to the mall or hitting a few boutiques.
If you're feeling super adventurous, you could even try to find some designer pieces. Even if you walk away empty-handed, it will be a fun way to spend the day.
6. Go out dancing
If you love music and dancing, consider going to a club or party on your birthday. It's a fun way to spend the evening, and you can meet new people while having a great time.
Even if you're not usually a big fan of clubs, don't rule out going dancing on your 19th birthday. If you're single, it's a great place to meet new people, and if you're in a relationship, you can enjoy dancing together.
7. Head to a sporting event
Attending a sporting event is always great fun. You can cheer for your favorite team or take the opportunity to learn more about a sport you're unfamiliar with.
You're sure to have a good time, whether it's baseball, basketball, football, soccer, or anything else. And if you get hungry, plenty of concession stands are usually available for snacking throughout the game.
If you're low on cash, check out the cheap seats, sure you might not be able to see all the action, but you'll still be able to have a good time with your friends.
8. Go hiking
Are you the type of person who loves nature? If so, consider hiking one of your 19th birthday Ideas. You'll get to spend time outdoors, and you might even be able to see some incredible wildlife.
No matter where you live, there's probably a hiking trail nearby. If you don't have any experience, consider going with someone who does or signing up for a guided tour.
Going on a hike is an excellent way to spend your birthday if you enjoy exercising and seeing something beautiful.
9. Have a Spa day
Do you need a little "me time"? If so, consider having a Spa day on your birthday. You can get a massage, try out the sauna, or simply relax and get pampered by the staff.
Spa days are fun because you get to treat yourself to something nice, but you won't have to spend much money. Most Spas are inexpensive, and you could get a gift certificate for your birthday to save even more money.
10. Go camping
While many people associate camping with summertime, you can do it all year round. And it's a great birthday activity if you want to spend some time outdoors.
Camping is an excellent way to return to nature and unplug from the things that stress you out. You can bring a few friends along if you like, or you could enjoy some time alone.
Just make sure you know what the weather will be like before you go. If it's supposed to rain or snow, it's best to wait until the weather improves.
11. Host a Book Club meeting
If you're an avid reader and enjoy discussing books, consider hosting a book club meeting on your 19th birthday. You can invite one or two friends or even reach out to book lovers online.
If you're unsure where to start, check out some online book clubs and see what they are reading. They often have conversations with members, so you'll have plenty to discuss.
---
Related:
---
12. Have a movie marathon
Do you enjoy watching movies? If so, consider having a movie marathon on your 19th birthday. Grab the popcorn and a few friends, and enjoy watching your favorite movies all day.
If you can't come up with a list of movies to watch, check out a list of all-time best movies on IMDb. It's a great place to start, and you can add more movies to your list once you're done watching a few.
If you have Netflix, you can scroll through what's new and watch anything that interests you.
13. Spend the day at an amusement park
Amusement parks are a blast; you can have much fun with friends or alone. There are roller coasters, waterslides, carnival games, and other fun things to do.
Amusement parks also have many food options: you can fill up burgers and fries for lunch. And if you want a sweet treat, there are usually plenty of places to get ice cream or frozen yogurt.
No matter where you live, there's probably an amusement park nearby. You should know that some amusement parks have birthday specials, so it's best to check in advance.
14. Have a backyard BBQ
Do you enjoy grilling? What better time to have a BBQ than on your 19th birthday? It's an inexpensive way to celebrate.
You could have burgers, ribs, or anything else you're in the mood for. You'll only need charcoal, a grill, or a BBQ pit; most people already have those.
15. Go to an arcade or laser tag center
You don't need to be a kid to enjoy playing games. There are plenty of places where you can go for laser tag or play arcade games in a group.
Old-school arcades are especially fun because they often have games you can't find anymore. And playing laser tag is always a good time because it's like hide and seek, but you can shoot people.
If you need help finding an arcade or a laser tag center, check out Google Maps. It will give you nearby results, and you can check out the prices to see if it's something that you can afford.
16. Get your fortune told
Not everyone believes in this, but some people think that their lives are determined by the exact moment they were born. So it's interesting to know what your future might hold.
There's a lot of debate over the accuracy of fortune-telling, but if you're willing to give it a try, there are a few different ways to do it. You can visit a psychic, visit a fortune-telling booth at an amusement park, or even check out a fortune-telling website.
Remember that you might not like what the fortune teller has to say! But it's worth a try if you're curious. And keep in mind, it's just for fun! Talk about unique 19th Birthday Ideas.
17. Spend the day at a race track
Do you enjoy watching cars or motorcycles drive around and make tight turns? If so, try spending the day at a race track.
You might want to go with a few friends, but you can also go alone. The races can often be very loud, so you might want to bring a pair of earplugs if you're easily annoyed.
18. Cook a decadent meal
Are you great at cooking? If so, consider making a special birthday meal for yourself. It doesn't have to be a fancy, gourmet meal; it just needs to taste great.
If you rarely have time to make a home-cooked meal, this is a great birthday present for yourself. It will allow you to relax, try new recipes, and enjoy your creations.
You can use Pinterest for recipe ideas. Just search for something specific and browse the results. When you find one you like, pin it to a board.
---
Related: Over 15 Party Food Ideas That Will Impress Your Guests!
---
19. Go skiing or snowboarding for the day
If you live in an area with enough snow, you might want to spend your day doing something active.
Hitting the slopes is a lot of fun, and it's easy to learn how if you're already athletic. You can take lessons at the ski resort or go alone. It's not that hard to learn how to ski or snowboard, and many people enjoy it.
Just don't forget to dress appropriately for the weather! You don't want to be too cold or hot when you're out there.
So there you have it, 19 fun things to do on your 19th birthday. Do any of these 19th Birthday Ideas interest you, or are they completely off the wall?
There are many different ways to celebrate your 19th birthday. Some people may have a small gathering with close friends, while others prefer a large party. However, when considering your 19th Birthday Ideas, the most important thing is ensuring a memorable day. There are many ways to celebrate, so choose the option that best suits your personality. With some planning, any 19th birthday can be a day to remember.
This Post is all about the best 19th Birthday Ideas