Are you looking for a fun and unique way to celebrate a birthday? Look no further than a donut-themed birthday party!
From a donut-tasting bar and DIY donut decorating station, these Donut Birthday Party Ideas will be a sweet treat to your celebration.
And with activities like a donut-shaped piñata and donut scavenger hunt, there's something for everyone to enjoy. So why not make your next birthday party a memorable and delicious celebration with a donut theme?
DISCLOSURE: SOME OF THE LINKS IN THIS POST ARE AFFILIATE LINKS. THIS MEANS IF YOU CLICK ON AN AFFILIATE LINK AND PURCHASE THE ITEM, I WILL RECEIVE AN AFFILIATE COMMISSION AT NO EXTRA COST TO YOU. ALL OPINIONS ARE MY OWN AND I ONLY RECOMMEND PRODUCTS OR SERVICES I BELIEVE WILL ADD VALUE TO MY READERS. SEE FULL DISCLAIMER HERE.
Donut Tasting Bar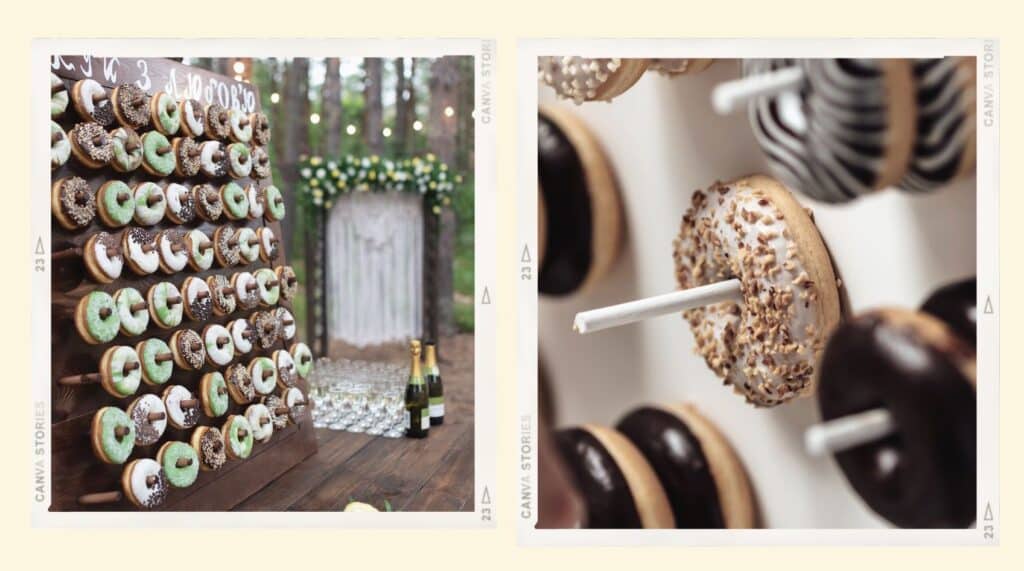 This donut-tasting bar will have a selection of donuts to choose from, allowing party guests to expand their palette. Start simple by offering classic flavors like plain glazed, Boston cream, and chocolate-filled. Of course, you can always add toppings such as nuts, sprinkles, or even marshmallows for a delightfully delicious twist.
Donuts can get gourmet too! Mix things up by having filled donuts such as jelly-filled or custard-filled. Or your donut lovers can opt for more exotic fillings like guava paste, passionfruit curd, or even lime coconut. Plus, you'll be surprised by how creative your guests can get when it comes to combining flavors!
And, of course, no donut-tasting bar is complete without the classic chocolate donut. Make the experience extra decadent by drizzling it with chocolate ganache, or go the extra mile and have a local chocolatier craft handmade truffles to pair with your donuts. There's no wrong way to celebrate with chocolate!
Make it a centerpiece!
Set up the donut-tasting bar at the center of your birthday party and let your guests explore the world of donuts. It's an easy and delicious way to ensure your guests have an unforgettable experience!
DIY Donut Decorating Station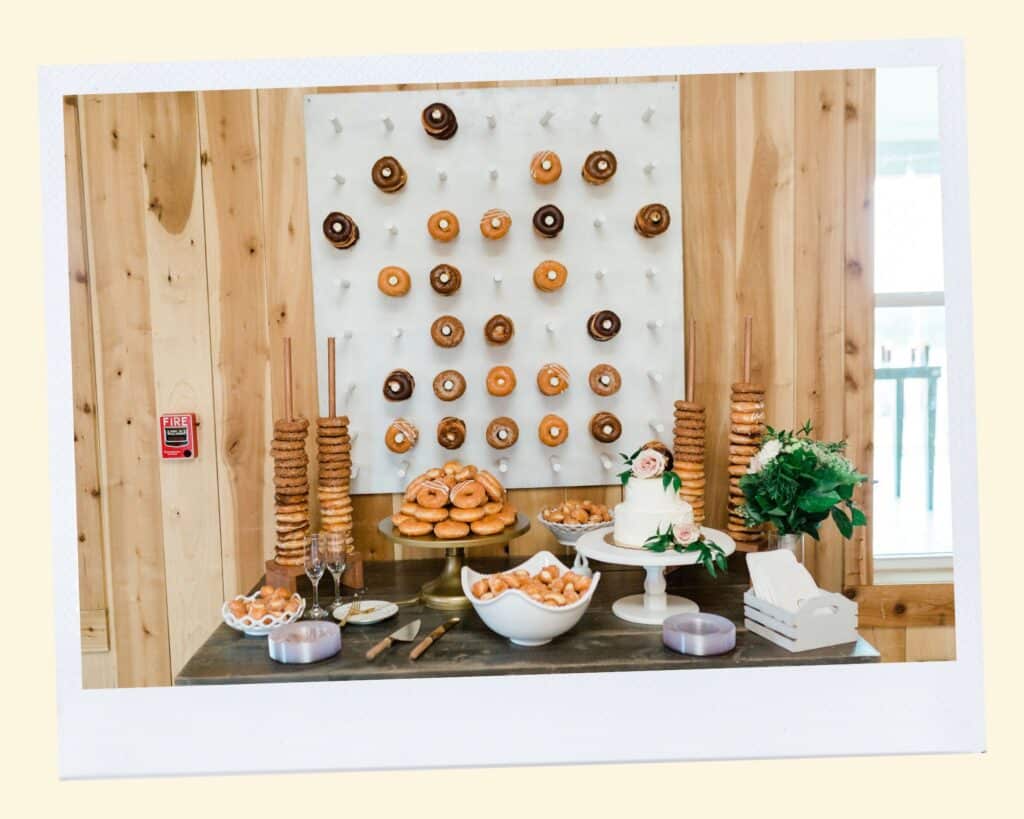 If you're unsure about a donut-tasting station, you can try a donut-decorating station! This one can get more creative and interactive. Kick off your station with a wide selection of classic and unique flavors! Keep it traditional with glazed or chocolate, or try something different with exciting options like a mocha or birthday cake. And for a truly personalized touch, why not get custom-made donuts with the birthday boy or girl's name in icing? Don't forget to consider dietary restrictions, too – make sure to have at least one vegan, gluten-free option available for guests with food allergies.
Once you've sorted your donut flavors, it's time to add some pizzazz with various decorations. Classic toppings like colorful sprinkles and crushed candy pieces are always a hit, but why not experiment with other edible decorations like gummies, marshmallows, or white chocolate chips? You could even sprinkle on edible flowers or glitter for a fancier touch or offer handmade fondant cutouts and characters.
But why stop at edible decorations? You can really up the fun factor by including non-edible items too! Provide bowls of mini balloons, party-colored straws, and sugar pearls for guests to add to their donuts. And for a truly unique touch, why not include mini figurines or paper cutouts to bring extra personality to your display? The possibilities are endless!
---
Donut-Shaped Piñata
Making and filling a donut-shaped piñata is a fun and creative way to make your donut birthday party even more special. Especially if it's a kid or teen's birthday party, you can make a piñata in many shapes, and a donut-shaped one is a perfect way to welcome your young guests. A donut-shaped piñata can also be an excellent decoration for your party.
When it comes to filling the piñata, the possibilities are endless. You can opt for various types of candy or a more creative option, such as confetti or small toys.
Once the filler has been placed inside the piñata, it's time to start the party. Blindfold the kids and let them take turns hitting the piñata. Be sure to have a plan in case of any accidents or mishaps, and keep an eye out for potential hazards. Once the piñata has been broken and the treats inside have been revealed, the kids can go crazy gathering the goodies.
---
Donut Cake
When it comes to Donut Birthday Party Ideas, you can not miss out on a donut cake! First, start by baking a traditional tiered cake. You can use a boxed mix or make your own from scratch – whatever you prefer! Use pans of various sizes and depths to create tiers of different heights. Once your cakes have cooled, you can ice them in multiple flavors to create a stacked donut effect. For example, a white buttercream can mimic a glazed donut, while a chocolate ganache with rainbow sprinkles can create the look of a classic chocolate-covered donut.
To sell the donut theme, decorate your cake with fun and colorful donut-inspired elements. For example, round candies in a rainbow of colors can be arranged around the sides of the cake, while candy melts can be used to create donut-shaped decorations like sprinkles, chocolate pieces, and cookies. Fondant is another excellent option for creating fun donut-themed decor – try shaping it into donut shapes or mini donuts to place on top of your cake.
And, of course, don't forget to finish your donut cake with a delicious donut-flavored frosting! Whip up a light, airy topping with simple ingredients like powdered sugar, butter, and milk. For a slightly tangy twist, you could even use cream cheese in your frosting. This unique and playful take on traditional cake will give your guests away!
---
Donut Hole Skewers
Donut hole skewers are an easy and fun party snack idea for a birthday party. This snack option is aesthetically pleasing and tasty – everyone will surely enjoy it!
Start by deciding on what type of donut holes and fruit to use. Donut holes can be pre-made, store-bought, or homemade. Fruits that work well for this snack include strawberries, banana slices, blueberries, or pineapple chunks. When selecting the donut holes, you can also consider selecting flavors that will complement the chosen fruits, such as chocolate-covered donut holes using strawberries or cinnamon-sugar donut holes with pineapple pieces.
These donut hole skewers can be served as is with a dipping sauce or heated up and served with butter and syrup for a delicious and warm snack. To spice things up, let your guests create special donuts and fruit combinations for a fun and interactive party snack.
---
Donut Scavenger Hunt
Are you looking for a fun way to keep your guests entertained at your donut-themed birthday party? A donut scavenger hunt is a great option! It's an interactive and exciting activity that gets everyone involved while allowing for a relaxing and enjoyable time.
To get started, gather donut-themed items to hide around the party area. Donut-shaped balloons, pillows, plush toys, and candies are some great ideas; you can even get crafty and make your unique donut-themed items.
Once you have your items ready, plan out where to hide them. Think of the party area and decide where to place the items amongst the furniture, decorations, and other items in the room. Then, create a list of the things for your guests to find, and don't forget to include hints where needed!
Guests can either form teams or search independently to locate all the items. As they find each one, they can check it off their list, and when they've found everything, they can return to a central spot and declare their mission accomplished.
To add an extra element of fun, offer a prize to the team or person who finds the most items or completes their list the fastest. Prizes can be as simple as donut-themed candy or a gift card to a local donut shop, depending on your budget.
Hosting a donut scavenger hunt is a surefire way to make your donut birthday party a hit, and it's guaranteed to bring smiles and laughter to your guests!
---
Donut Costume Contest
Donut costume contests are a great way to excite guests and add fun to your donut birthday party. To hold a successful and enjoyable costume contest, start by encouraging guests of all ages to come dressed in their most creative and unique donut-themed costumes. You can provide some specific costume suggestions in advance to get their creative juices flowing. For example, suggest that they dress up as their favorite type of donut, such as a classic glazed donut, a sprinkle-topped donut, or a classic jelly donut.
Once all your guests have arrived at the party, gather the crowd and announce the start of the costume contest. Allow each guest to strut their stuff or do a bit of a mini-performance to show off their costumes. Encourage all guests to cheer on their peers, regardless of how creative or complex their outfits may be.
Once all the costumes are presented, elect a small panel of judges—such as the birthday boy/girl, their parent/s, and a couple of friends—to decide who the winners should be. Decide on a selection of prizes in advance, such as a donut-themed gift basket, a pack of donut-shaped candy, or a mini donut-making kit. Finally, announce the winners and thank everyone who participated in the contest!
---
Donut-themed Photo Booth
Get ready to add some sweet memories to your donut-themed party with a donut-themed photo booth! To create the perfect backdrop for your photos, decorate with mouthwatering donut-shaped balloons, colorful streamers, and a giant donut wall.
For extra fun, provide your guests with donut-themed props like oversized donut-shaped hats, colorful donut-themed sunglasses, and giant plush donuts to cuddle up with. Add some variety by including props like large glasses, feather boas, and silly hats to bring out the laughter in your guests.
To make the experience even more unique, consider setting up a few different backgrounds for your guests, such as a vibrant confetti background or a playful donut-patterned wallpaper.
Let your guests snap away and capture the fun and silly moments throughout the party, and don't forget to set up a photo printing station so that everyone can take home their favorite photos as a sweet memento. A donut-themed photo booth will make your party a memorable and delicious celebration for all!
---
Have you gathered a few Donut Birthday Party Ideas for your next big day?
Donut-themed birthday parties are a fun and delicious way to celebrate a special day. Whether you're hosting a party for kids or adults, these Donut Birthday Party Ideas will surely bring smiles and create memories. So don't wait any longer; start planning your party today!
This Post is all about the Best Donut Birthday Party Ideas
More Ideas from this Category