These refreshing Mango products will make excellent Gifts for Mango Lovers!
Nothing makes you feel like you are on a tropical beach like the flavor of mango. Mangoes are one of the most popular fruits globally as they can be eaten fresh or used in recipes like smoothies or even pies! I'm sure reading this makes your mouth watery. Hence, they are ideal gifts for Mango Lovers.
Did you know National Mango Day is on July 22nd? You do now, and this means you can surprise a Mango lover with these refreshing gifts on July 22nd, Christmas, or birthday gifts!
DISCLOSURE: SOME OF THE LINKS IN THIS POST ARE AFFILIATE LINKS. THIS MEANS IF YOU CLICK ON AN AFFILIATE LINK AND PURCHASE THE ITEM, I WILL RECEIVE AN AFFILIATE COMMISSION AT NO EXTRA COST TO YOU. ALL OPINIONS ARE MY OWN AND I ONLY RECOMMEND PRODUCTS OR SERVICES I BELIEVE WILL ADD VALUE TO MY READERS. SEE FULL DISCLAIMER HERE.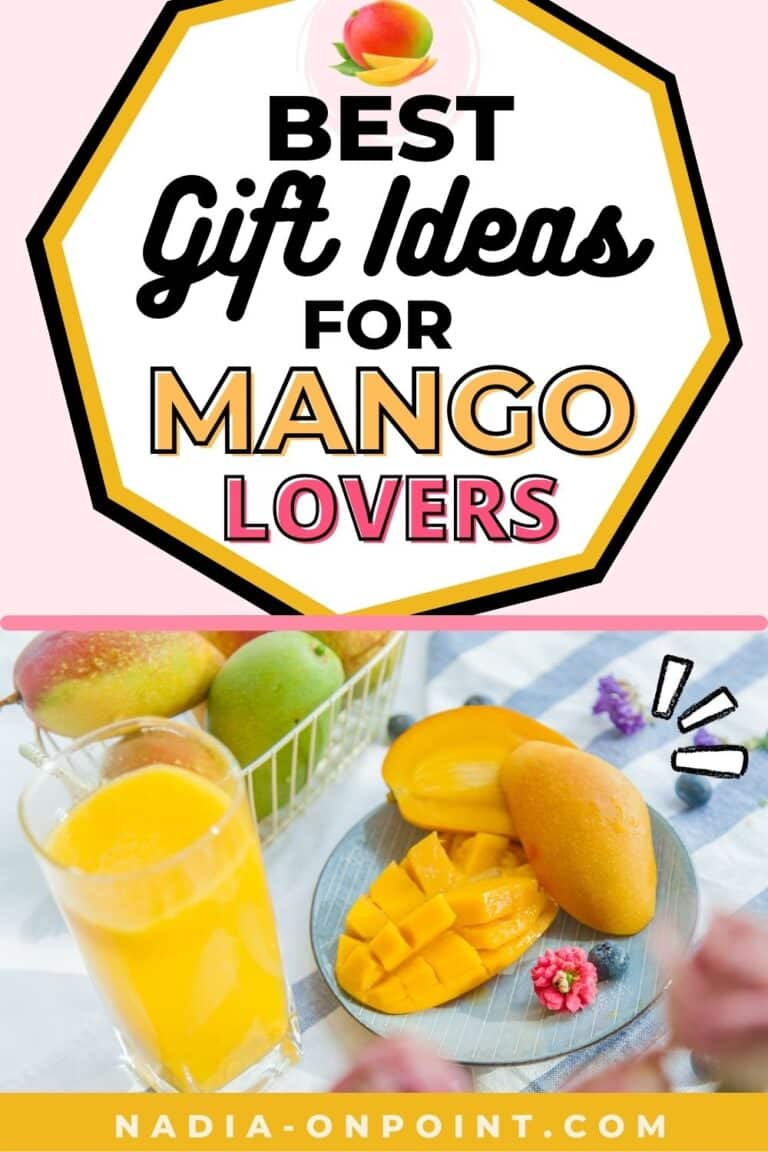 Tasty Gifts for Mango Lovers
Supercharge your day with Transformation Factory's Mango Sea Moss Gel. This blend combines the 92 minerals from sea moss with vitamin C, vitamin A, vitamin K, Vitamin E, calcium, manganese, magnesium, iron, thiamine, B6, and folate. In addition, mangos have lots of antioxidants and collagen for the skin.

Combine this super fruit with the minerals contained in sea moss you have a great addition to your health regimen. Ingredients for this blend are simple: sea moss, mangos, and agave. Refreshing!

Use the code onpointgift for 10% discount!
---
BrainJuice delivers an immediate, all-natural nutrient boost for your brain to help improve focus, clarity, memory, and mood. You can be more present, be more productive, and reach your fullest potential. In combination with the taste of Mango, all these values will brighten a mango lover's day.
---
Is your child, nephew, or niece a huge Mango fan? Kids love Mangoes, and these snacks are all-natural fruit bars that are healthy, yummy, and mess-free! All bars are organic and free from nuts, gluten, soy, and dairy. Furthermore, it's wrapped in edible paper for the ultimate fun! You won't find artificial flavors, preservatives, or refined sugar either.

Kids will love the edible paper wrapping for mess-free snacking. What's in them? There are just ten healthy all-natural ingredients – fruits, oats, hemp hearts, coconut oil – and a mess-free coating that parents will love. It's the ultimate snack for kids.
---
ACE juices from Karviva are unlike other chemical-filled energy and sports drinks. These natural gluten and sugar-free electrolyte drinks are naturally-sourced ingredients. ACE Recovery drinks are low in sodium and calories and contain collagen derived from salmon. These immune booster recovery drinks are packed with vitamins and minerals to keep you healthy and hydrated. ACE stands for antioxidants, collagen, and electrolytes. And, of course, they taste like fresh mangoes!
---
Escape to the tropics with this mango tea blend—a perfect accompaniment to a summer picnic or lounging by the pool. Sip N' Slay was founded on the belief that every woman needs more love, positive vibes, and self-care. This lifestyle brand provides quality herbal remedies to soothe and heal your body, mind, and spirit from the inside out.
---
Enjoy the flavor of natural mango candy with just a hint of heat. It's one of the more traditional Mexican-inspired flavors created by Tamalitoz by Sugarox. Those mango lollipops are covered with chili powder, but Tamalitoz is pulled and stretched like taffy to give them that "melt in your mouth" crunch you only find in handcrafted candy. It's a fruity ribbon-style candy filled with mild chili lime seasoning. Talk about the ideal snack for mango lovers!
---
Here's something for our Tea Lovers, who also happen to be obsessed with Mangoes!

This flavored loose black tea is a fruity blend of China Congou black tea, mango pieces, colorful marigold petals, and the natural essence of pure mangoes. It can be enjoyed as a warm cup of tea on a cold summer night or brewed for iced tea for those hot summer days! Plus, you know you're getting the best quality. Mark T. Wendell has been around for over 115 years and has been synonymous with superior taste and coveted luxury tea blends.
---
Unique Gifts for Mango Lovers
Here are some unique Mango Gifts I know any mango lover can't resist. They won't be preparing any mango drinks or snacks this time, but they'll love these cute and unique items that express their love for Mangoes.
How cute are these Mango Earrings? They are such an attractive accessory to wear on any occasion; I would say it's somewhat ideal for the girl who loves summer, for they give that cute summer vibes. If you're looking unique gift, then you should consider getting a mango lover these Mango earrings!
---
Mango Plushies
You know you can never go wrong with Plushies; they make a cute gift idea for anyone! It could be for your child, best friend, or spouse! These Kawaii gift ideas will put a smile on any Mango Lover's face.
---
There you go, some of the Best Gifts for Mango Lovers to Feel Like They're on a Tropical Beach!
It's not exactly the easiest to find gifts for Mango lovers. However, with a little bit of creativity, you can find something they will love. It doesn't always have to be a T-shirt with a mango design or a mug with a mango illustration. The ideas mentioned in this post are unique, cute, straight, and thoughtful. They'll realize that your gift comes from the heart and that you put some thought into it.
This post is all about finding the perfect gifts for Mango Lovers