Looking for some graduation party Ideas for girls? Here you will find a few ideas to help you plan the perfect party for the graduate in your life.
Graduation is a significant milestone in anyone's life. If you have a special girl graduating soon, you'll want to commemorate the day with an unforgettable celebration. Coming up with graduation party ideas for girls can be tricky. You want to make sure the party is unique, but you don't want to go over the top.
Whether for high school or college graduation, plan a fantastic party for the graduate that celebrates her accomplishment and gives her friends a memorable experience. To inspire you, we've rounded up some exciting graduation party ideas for girls that will create long-lasting memories of this momentous milestone!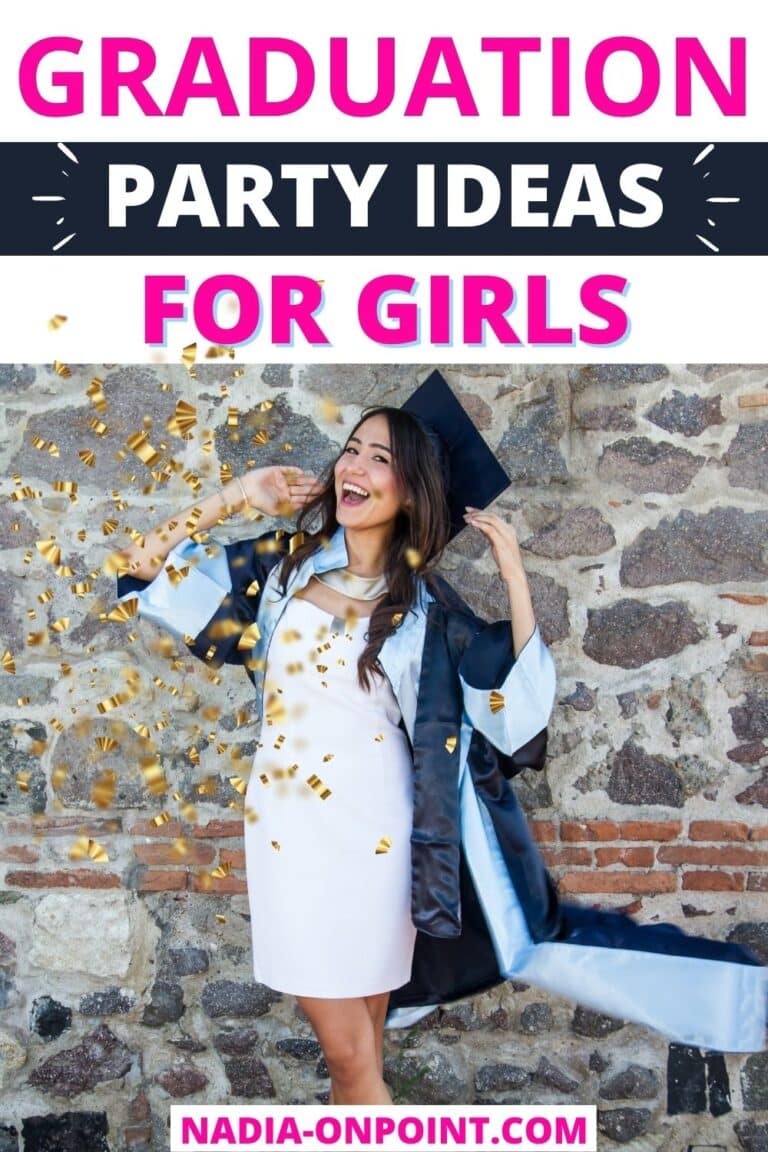 Graduation Party Decoration Ideas for Girls
When it comes to decorating for a graduation party, there are endless possibilities. However, if you are looking for fun decorations for girls, here are some ideas to make her graduation party pop.
Fabric Photo Backdrop and Create a Graduation Photo Booth
Setting up a fabric photo backdrop and creating a graduation photo booth is an excellent way to add style and fun to your graduation party. A photo booth will give your guests something to do and a fun way to commemorate the big day.
First, you'll need a fabric backdrop. Purchasing a bright solid color can give the backdrop a more vibrant look while keeping it neutral. To add a bit of glamour, choose a sequinned fabric with a shimmering effect.
You can add decorations to the edges to brighten the backdrop, such as crepe paper frills, balloon arches, or garlands.
For a unique set-up, add props such as a banner, diplomas, graduation hats, oversized sunglasses, or even an inflatable clapperboard to give a classic film look. You can also include traditional photo booth accessories such as animal masks, mustaches, and funny signs. You can purchase ready-made props or make your own with cards and markers.
Here are some fun Graduation Props.
---
Confetti Balloons
Confetti Balloons are one of the most exciting decorations for a girl's graduation party. Filling balloons with confetti before inflating them creates a unique, glittery effect. Using confetti balloons makes for a festive look that can transform any room into a celebratory atmosphere.
Confetti balloons are also an excellent addition to any photo booth setup. Set up a few confetti balloons around the photo booth area, and everyone will be sure to have wonderful memories from the celebration.
---
Cute Posters with Inspirational Quotes
When picking out quotes, try to select ones that motivate and inspire. You can also choose quotes related to the graduation theme, such as "today is the first day of the rest of your life" or "shoot for the stars." It would help if you were sure to match the font and color palette of whichever quotes you choose to create a cohesive look.
Here are some great poster ideas.
If you decide to make the posters on your own, you can get a colorful paper, markers, and glue-on paper cutouts. There are also a variety of online websites and services that provide pre-designed posters that you can print from home.
---
Customized Party Favors
One great idea for personalized favors is to create custom candy gifts. For example, you can create a fun candy bar for everyone. You can also customize small sports bottles and fill them with colorful candies and chocolates.
Candy Bar Graduation party ideas for girls: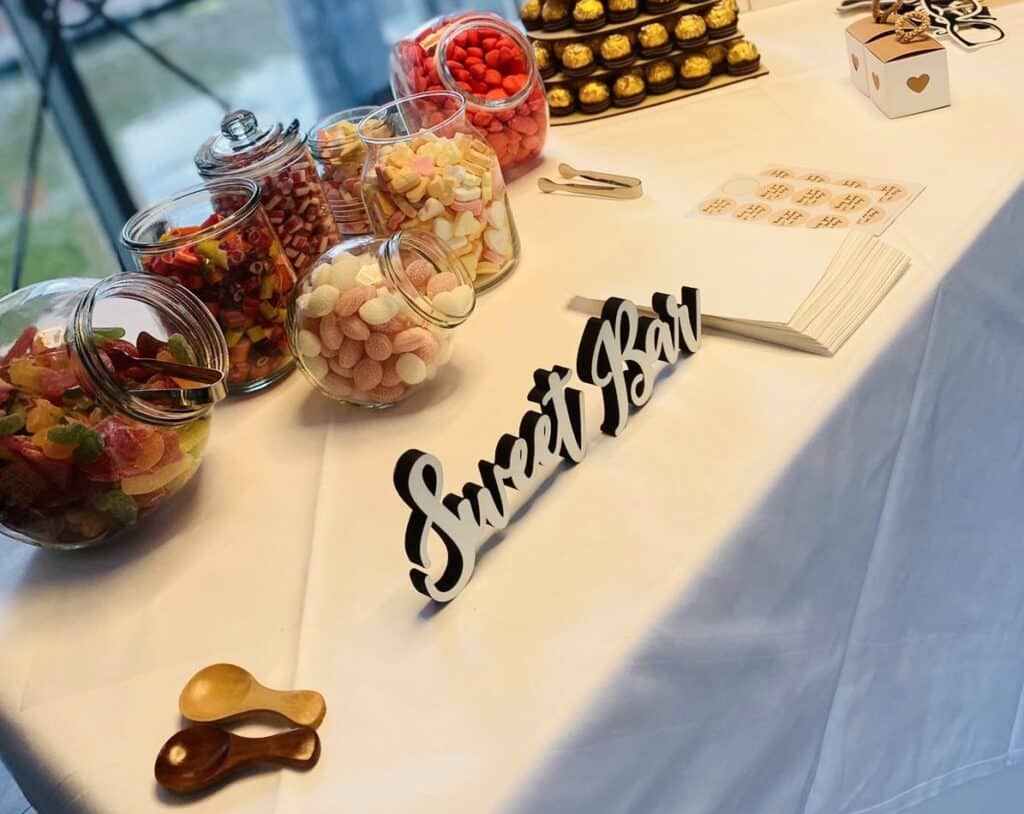 Recreate this idea:
Another great idea for custom graduation favors is to make personalized gift bags. These bags can be filled with anything from a small graduation photo album to snacks, sweets, and treats with school colors or pictures of the graduate and her friends. You can also add custom-engraved pens, pencils, and other school supplies with the graduate's name or the name of the occasion.
Some Graduation Party Favor Bags to consider:
If you want to go the extra mile, you can have special custom-made items for your graduation party favors. For example, you can order customized t-shirts with the graduate's name and photo or personalized keychains, mugs, and magnets with the graduation date and the graduate's name. Personalized snapper frames and poster boards with the graduate's accomplishments and milestones also make great keepsakes.
---
Floral Centerpieces
For a graduation party with a girly theme, opt for bright and happy blooms in beautiful pink, coral, yellow, and lavender hues. For a more sophisticated look, you can use monochrome centerpieces with white and cream variations of the same flower.
No matter what flower type you choose, make sure it is in a tall vase to give the table a more finished and festive look. Start by arranging the greenery in a cylinder-like shape around the vase and then gradually add flowers on the edges. To add more dimension to the centerpiece, you can add decorative elements, such as mini graduation tassels and themed objects like diplomas, books, and mini graduation hats.
After creating your floral centerpieces, you can further embellish them by adding table runners with words of encouragement and themed napkins. You can also add LED candles, which are eye-catching and safe to use. They come in various sizes and styles, and you can choose from traditional tea lights, tall white tapered candles, and even floating ones.
---
Graduation Party Ideas for Girls – Activities to do
Now that you have your decorations, it's time to give everyone something to do. Let's check out a few activities you can incorporate into your graduation party.
Spa Day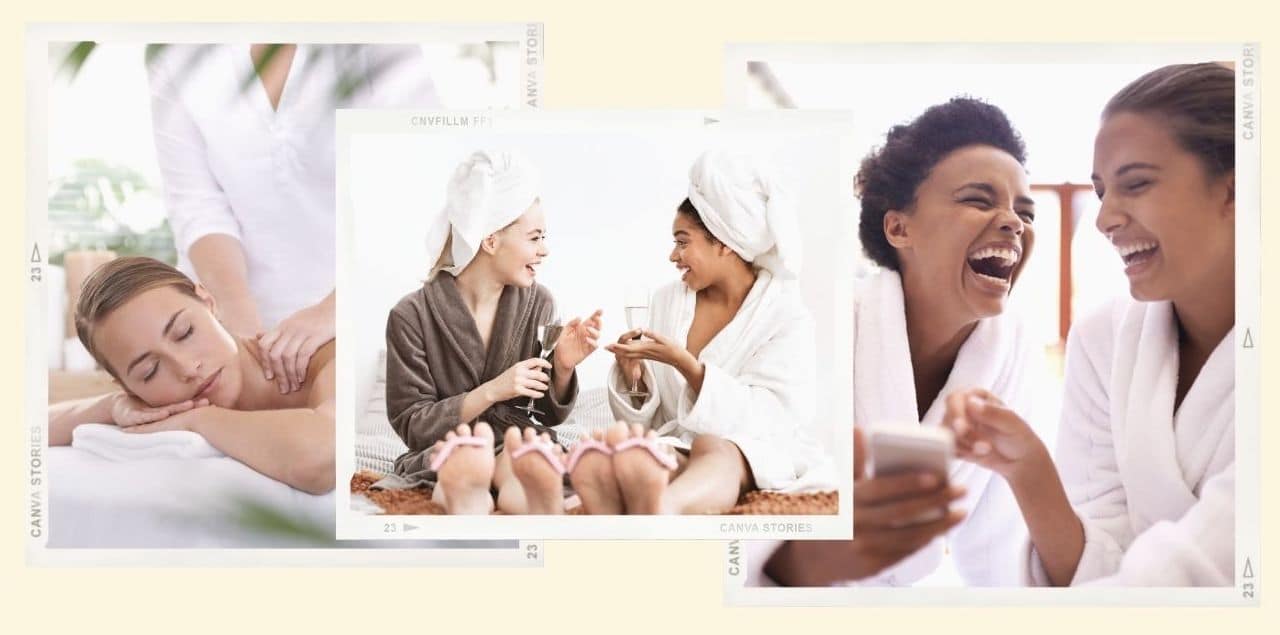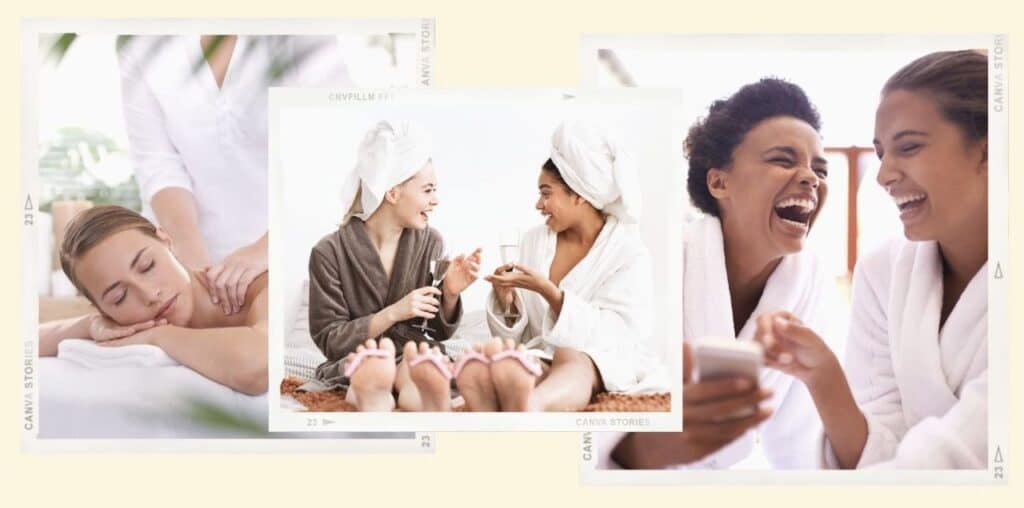 Spa Day is a great way to celebrate an upcoming graduation. When planning an event like this, ensuring all the guests have a fun and relaxing time is crucial. Gather all the necessary supplies to start planning a spa day for a graduation party. It can include lotions, body scrubs, facial masks, nail polishes, and manicure tools. Then, set up spa stations around the party area and offer manicure and pedicure services. Include fun extras like foot spas and head massagers to make it a relaxing experience.
To add a bit of fun to the event, include lottery tickets as part of the supplies. Some of the tickets can be given to guests when they arrive and have prizes like a manicure or pedicure kit, a scented candle, or even a gift card. This way, everyone can participate in the lottery, which makes the event more interactive and exciting.
You can also set up other activities during the spa day, like making homemade face masks or playing spa-themed games. Ask each guest to bring an item from their makeup bag or toiletry kit so everyone can have their personalized spa experience.
---
Retro Dance Party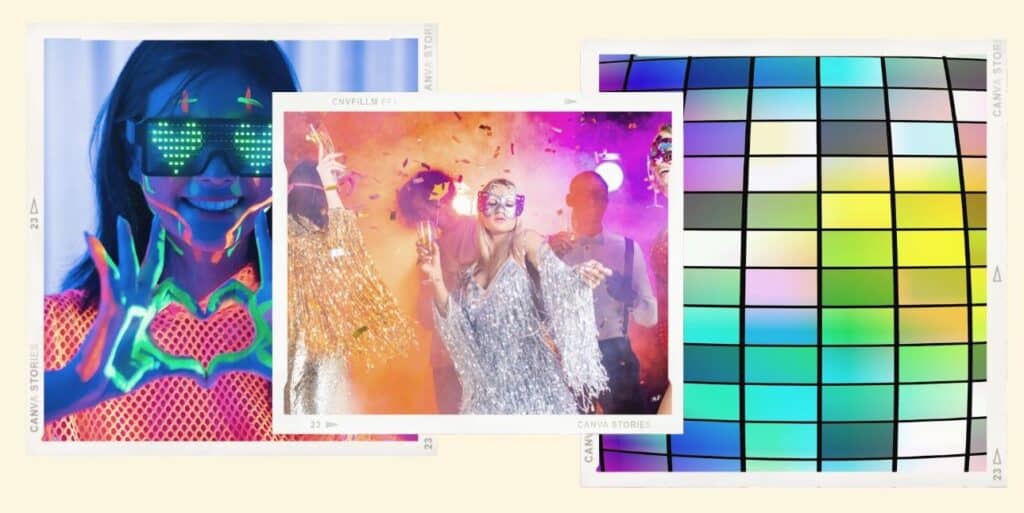 A retro dance party will make a great way to celebrate a girl's graduation! It's a fun and nostalgic activity that everyone can enjoy, and your guests will love the feel of a classic dance party.
First and foremost, you'll need to select the appropriate songs to make up your "retro playlist." Depending on the graduating girl's age and style, choose hit songs from various decades. Guests are always more likely to get in the groove when they're familiar with the song selections, so make sure to choose popular tunes from days gone by.
Once you've put together your playlist, it's time to teach some classic dance moves! You can use audio or video tutorials to ensure everyone knows how to do the twist, the mashed potato, or the running man. Or, if you'd instead add an element of surprise to the party, you can also devise some creative routines and give your guests a crash course during the party. Everyone will have a blast getting into the groove and learning new moves.
Finally, don't forget to add a dance competition! It can serve as a humorous and entertaining activity for the party. Split the guests into teams and make them create a group dance. Once all the teams have completed their dances, it's time for the guests to vote on their favorite. Talk about increasing the excitement and energy for the night and providing a lot of laughs for everyone!
---
Tea Party
A tea party is a fantastic activity for a girl's graduation party and will create royal memories for years to come. It can be done indoors or outdoors, depending on the weather and the size of the gathering. You must ensure enough cups, teapots, and tea strainers for everyone's preferences. You can either be traditional and have a choice of tea already brewed and all of the appropriate accompaniments, such as sugar, honey, and milk, or make it a bit more modern and let everyone choose their tea types by having a variety of loose-leaf tea varieties.
Put a little extra effort into the décor by having a beautiful tablecloth, vases of flowers, and fancy teahouse sandwiches and cakes. If you want to turn it into a real tea party experience, have a handful of people dress the part in fancy Victorian-style tea dresses, hats, and gloves. Then, take things to the next level by offering everyone classical music, scones, and finger sandwiches.
You can recreate this idea for a great mother-daughter activity. Gather the graduating girls' mothers, who naturally want to celebrate their daughter's achievements. It will give the girls and their mothers a chance to honor their daughters, better understand each other, and cherish quality time together.
---
Related Posts:
---
Scavenger Hunt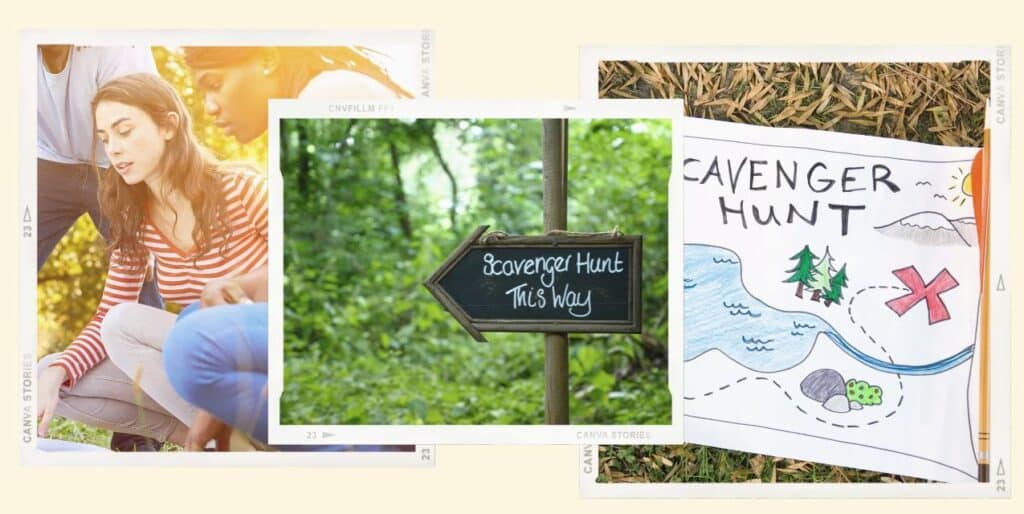 Who says scavenger hunts are just for kids? I could also make an excellent graduation activity for girls.
To properly plan a scavenger hunt, you should create a list of items for players to find. Make sure to pick things that can fit in a pocket or bag, such as a set of keys, a pack of gum, or a small stuffed animal. Then, hide the items around your house and make sure everyone knows the starting point.
You can also assign specific items to each team or player, thus making it easier for you to track which items were found and combat any disagreements between groups. Then, to make things even more challenging, you can set a timer for each team and assign them a set of challenges. For instance, you can make them solve a code before moving on to the next item.
Once everyone has had a chance to complete the hunt, everyone can gather around to compare items and determine the winners. Then, of course, you can give a prize to the winning team, whether that's a trophy or simply bragging rights.
---
Lip Sync Battle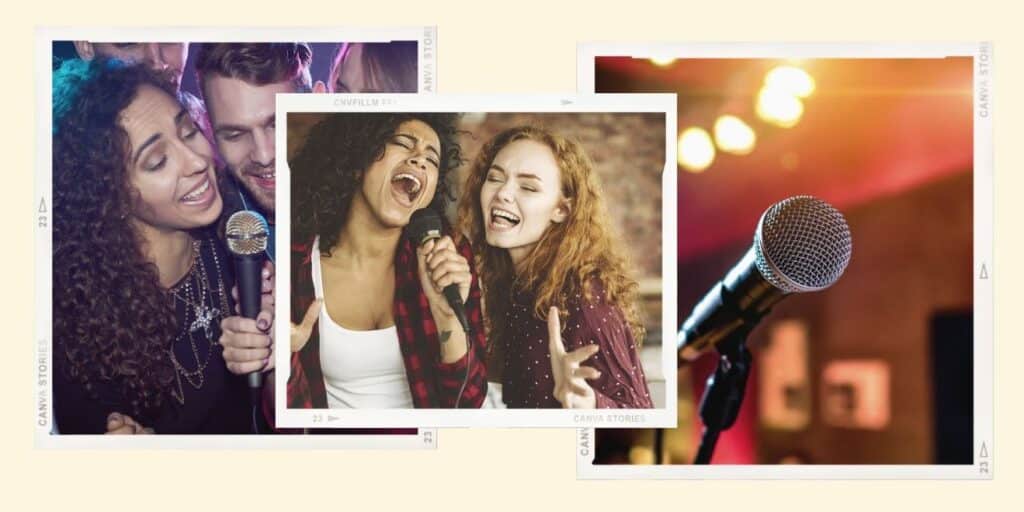 Lip sync battles are one of the most popular activities for girls at a graduation party. It captures the attention of everyone in attendance and allows the guests to show off their singing and lip-syncing abilities. To get the lip sync battle started:
Set up a stereo system with Wi-Fi-connected headphones or a karaoke machine.
Ask each guest to pick out their favorite music, and have plenty of backup tracks.
Have the guests form teams of two to battle it out on the karaoke stage.
Once the teams are set, decide the order of the performance and if the lip sync battle will include individual or group performances. To make it even more entertaining, have each team create creative costumes and dance moves to coordinate with their song. Ask everyone to vote for their favorite performance. The winning team should receive a gift or a fun certificate.
To top off the lip sync battle activity, consider setting up a small prize for the winning team. It could be a gift card to a local music store or a pair of headphones. Whatever the award, it will leave the girls feeling all the more special!
---
And there you have it, some of the best Graduation Party Ideas for Girls.
Whether you're planning a small gathering or a large bash, these ideas will make it an event to remember. Just remember to take plenty of pictures and videos so everyone can relive the fun after the party!
This post is all about Graduation Party Ideas for Girls
More Ideas from this Category