Are you looking for some Inspirational Graduation Gifts? No worries, here you will find the Top 10 inspirational graduation gifts all grads will love!
Graduation is a time to celebrate achievement and new beginnings, both for the graduate and the friends and family who have supported them.
There are many ways to show your support during this special time. You can Take them out for dinner or throw a graduation party on a budget! However, a gift can be one of the sweetest ways friends and close family can use to show appreciation for their loved ones' hard work. Giving an inspirational graduation gift can also help make this time even more memorable.
DISCLOSURE: SOME OF THE LINKS IN THIS POST ARE AFFILIATE LINKS. THIS MEANS IF YOU CLICK ON AN AFFILIATE LINK AND PURCHASE THE ITEM, I WILL RECEIVE AN AFFILIATE COMMISSION AT NO EXTRA COST TO YOU. ALL OPINIONS ARE MY OWN AND I ONLY RECOMMEND PRODUCTS OR SERVICES I BELIEVE WILL ADD VALUE TO MY READERS. SEE FULL DISCLAIMER HERE.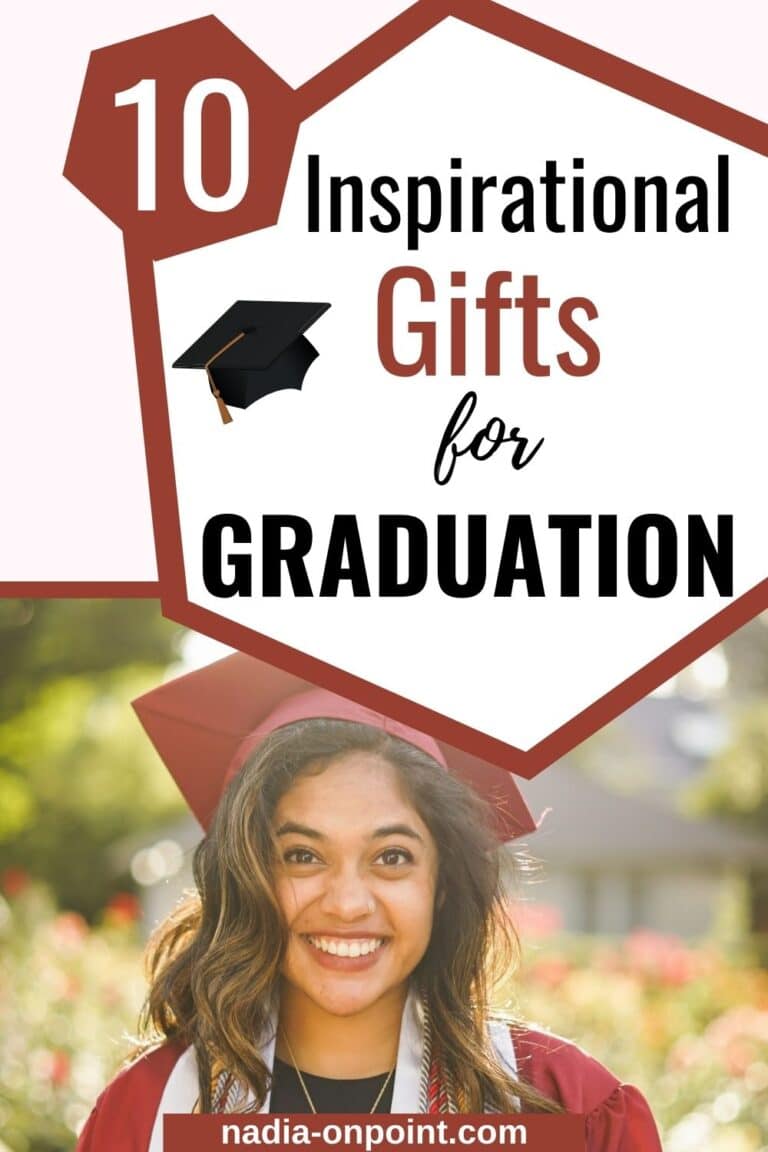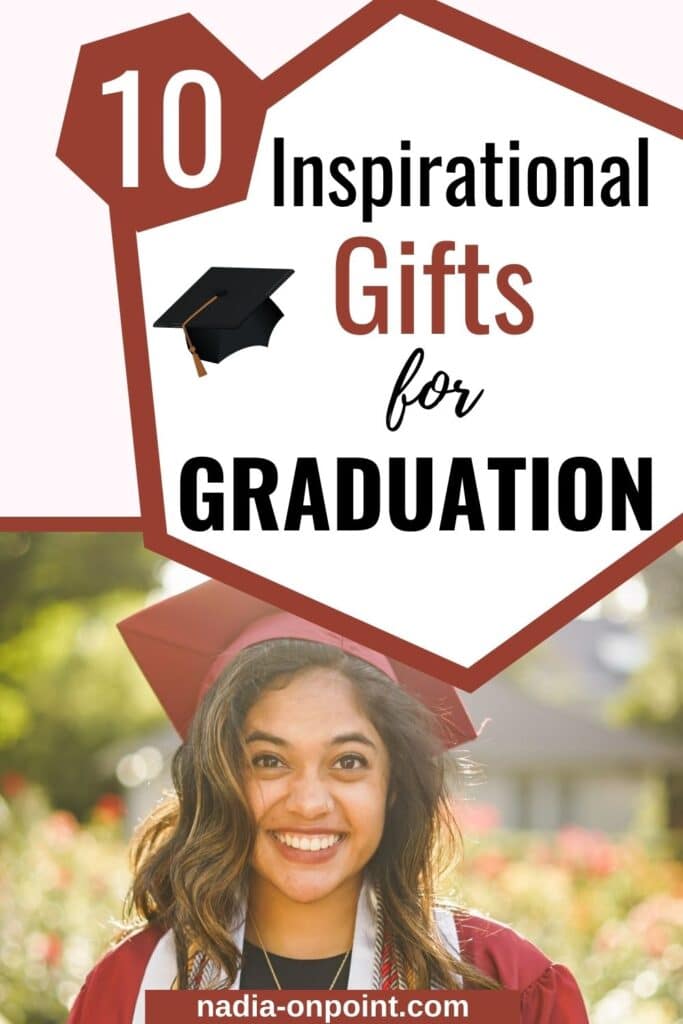 1. Inspirational Graduation Bracelets
These inspirational bracelets are the perfect gift for High School Graduates, College Grads, or Seniors. They are beautiful, and they expand easily to fit every wrist size. The words engraved on the following bracelets are so inspirational, they'll make the perfect graduation gift.
---
2. Personalized Graduation Picture Frame
They might seem like the traditional graduation gift, but it will always be a thoughtful gift nonetheless. Personalize a 'graduation picture frame' where graduates will always be motivated by the memories of their special day and Inspired to pursue their dreams even further. Now, that's an inspirational gift!
---
3. Personalized Mug
Tell the world they did it the hard way! Graduating is not easy, but graduating during a pandemic is a whole new level. It will be the perfect memorable graduation gift. They will forever remember successfully graduating despite difficult times in the world.
---
4. Inspirational Graduation Journal
A journal book will make a meaningful gift for a College or Highschool Grads; the words engraved on the following journal books are so powerful and inspirational. They can be great for new graduates to keep track of their thoughts, emotions and reflect on what they want their future to look like.
---
5. Graduation Travel Tumbler
This beautiful Tumbler can also be customized to match their likings. Besides being cute and trendy, they are also practical to carry everywhere and suitable for all drinks. In addition to this, you can also pick the ones with inspirational quotes for the ultimate inspirational graduation gift.
---
Related Post:
---
6. Custom Bobbleheads
Of course, we won't make a Top 10 list without adding the iconic Bobbleheads! These cute figures are just the ideal graduation gift. Yes, they can be funny graduation gifts, but they are also inspirational, as they will forever be a symbol for one of the best times of their lives. Take the time to customize a detailed bobblehead; it will make their day even brighter!
---
7. LCD Digital Photo Frame
It is the digital age, and the idea of photo albums needs to catch up! For this reason, a digital photo frame will make an ideal graduation gift. They'll enjoy various slideshows of the graduation ceremony and relive their most precious moments.
---
8. Graduation Gift basket ideas
Not exactly graduation-related, but it can be a way of saying it's time to relax! They are beautifully packaged, and I don't see any reason why any Grad won't love it! If anything, it will just put a smile on their faces.
---
9. Kindle Paperwhite
Surprise them with the thinnest, lightest Kindle Paperwhite. Remind them that graduation is not the end of the road but only the beginning. There will be more learning and reading along away, and what's a better way than using a light-weighted kindle to expand their knowledge! In addition to this, they are also waterproof, making them easier to read while relaxing at the beach, by the pool, or in the bath.
---
10. Graduation Plushies
Yes, I've kept the most adorable graduation gift for last, because plushes are just the cutest gifts out there. It will come in super handy if you ran out of ideas and wanted a last-minute gift. Besides, we all know plushes won't disappoint.
---
There you have it, the Top 10 Inspirational Graduation Gifts.
Graduation is an exciting and emotional time for students and their families. Make sure to celebrate the student's accomplishments and remember how far they have come! Here are some tips and advice for Graduation Gifts.
How much money to give for Graduation Gift?
Somewhere between $50-$150 would be perfect; friends are most likely to stick to something in the $50 range, while close families would give around $100-$150. It's also preferable to combine money with something else, for instance, a Plushie or Chocolate; they will make the graduation gift much more meaningful.
What is a good Graduation Gift?
Although Money does sometimes make a good gift, graduation gifts are not always about monetary value. They can be sentimental, thoughtful, or functional. Consider who the graduate is and what they love when you choose a gift.
What's an appropriate Graduation Gift?
You can never go wrong with inspirational jewelry, such as bracelets or necklaces. They are perfect for both boys and girls and they are ideal for a graduation gift. At a reasonable price, they sure carry a powerful inspirational message.
What is a good Graduation Gift for your best friend?
Matching Jewelry or a cute Personalized best friend Graduation Print will make an excellent for your best friend, it doesn't get more sentimental and emotional than this.