Are you looking for Unique Thank You Gifts for College Professors? You've come to the right place!
What could be the best gifts for college professors? Finding the perfect token of appreciation can be challenging when shopping for a gift for your favorite Professor.
You would love to show appreciation for the guidance, dedication, and knowledge that college professors provide throughout your learning experience.
Whether it is a funny gift to reward them for good advice or a more scholarly item to show that you have learned something valuable, I'm sure they will be pleased with the following top 10 list.
I've compiled a list of the top 10 gift ideas for college professors that will be perfect for a birthday present, Christmas present, or end of the school year!
DISCLOSURE: SOME OF THE LINKS IN THIS POST ARE AFFILIATE LINKS. THIS MEANS IF YOU CLICK ON AN AFFILIATE LINK AND PURCHASE THE ITEM, I WILL RECEIVE AN AFFILIATE COMMISSION AT NO EXTRA COST TO YOU. ALL OPINIONS ARE MY OWN AND I ONLY RECOMMEND PRODUCTS OR SERVICES I BELIEVE WILL ADD VALUE TO MY READERS. SEE FULL DISCLAIMER HERE.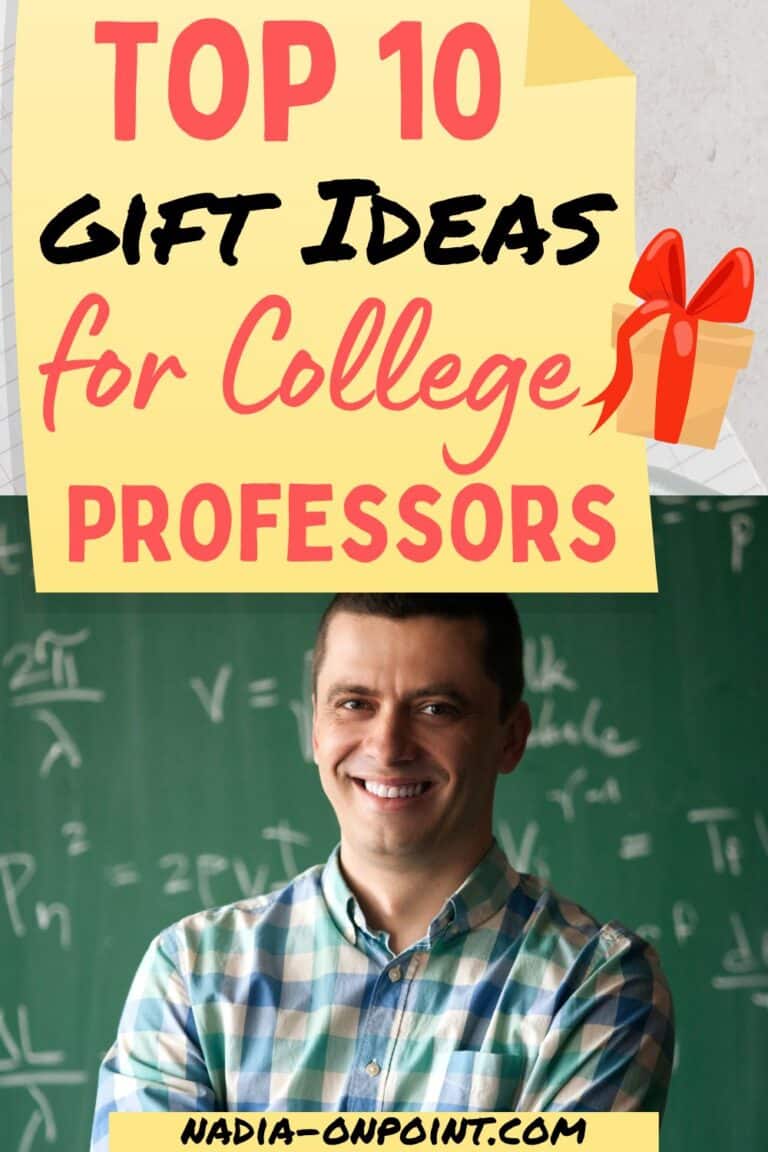 Best Gifts for College Professors
The learning process starts with writing the first alphabet and continues from then onwards. Remind your professor of his childhood and student years by getting him this hand-stitched Leather Journal with a vintage look. This aesthetic gift for your professor is the best traditional gift. I'm sure your professor will like, appreciate, and cherish this thoughtful and meaningful gift from you.
---
Bracelets are citing, minimal and beautiful gifts for any occasion. It becomes a little tricky when we have to choose a traditional and right gift for our teachers or professors. However, this beautiful charm will put a smile on your professor's face. They can use the adorable charm with a keychain, bracelet, or necklace. Isn't it convenient enough? The best part is that they will always remind them of your heartwarming gift whenever they see it.
---
3. Table Top Book Shelf
Bookshelves are undoubtedly the favorite of anyone who loves reading and collecting books. Who else will keep a collection of books if it's not professors? You can swear by this gift since it's a great addition to the interior of your professor's house. Check out this beautiful minimalist bookshelf and choose whether to have it engraved.
---
Teachers seldom enjoy the luxury of traveling and camping as per their hectic and heavy-duty job. They spend years teaching their students. Show your professor that you care about them by giving them this beautiful, aesthetic travel bag. I'm sure your professor will love this in the theory collection. Check out this fantastic Leather travel bag with a shoe pouch; these gifts can light up their day!
---
Again, there is no need even to mention that teachers own bundles of books, and no doubt they read many books simultaneously. Surprise them with this unique and personalized bookmark.

Personalize it with their names and a heart-warming message for the ultimate thank-you gift.
---
Related Posts:
---
Planters and plants symbolize good luck, success, and growth. On top of that, if the Planter is cute, it also lifts the mood. A pretty plant is all you need to lift the mood during tired hours. Get this adorable Planter with glasses for your professor, and I'm sure they will keep it on their table for as long as it can survive.
---
Take your gift to a whole new level with this clever idea. Who wouldn't love a personalized miniature version of themselves? You can give this customized and personalized bobblehead to your professor. It will give them a good laugh and a reason to keep smiling whenever they see it.
---
Another fun gift idea for your professor is this book of Useless Information. Although Useless, it's still a book and has some interesting information. Give your professor a confusing situation and put a broad smile on their face. However, it will only make sense if you are on friendly terms with your professor.
---
LED lights are always a good option for gifts. If it's an aesthetic light, it's like a cherry on top. Your Professor will love our following gift ideas. It's unique and aesthetic and will make them emphasize theories of physics. You can't go wrong with this gift; if anything, it's pretty impressive!
---
Bamboo Thermos is the perfect gift for your professor, especially if they are coffee or tea lovers. This thermos looks stylish and elegant and comes with a tea infuser to enjoy loose-leaf tea. It is made of stainless steel and bamboo material, making it durable and easy to clean. With its unique design, your gift will undoubtedly stand out. Plus, it's an eco-friendly alternative to plastic bottles!

If you are looking for something unique and not necessarily academic or professor related, this Bamboo Thermos with Tea Infuser is a perfect choice.
---
Have you found an Ideal Gift for your College Professor?
When it comes to unique gift ideas, you want to consider something that will last. These days, you don't want to go into the big bucks and buy something useless for your teacher or professor. For this reason, finding the right gift for college professors can be tricky.
Hopefully, we've given you a few valuable gift suggestions that will help you make a positive impact on any educators in your life. These gifts are affordable, functional, and designed for years of use and enjoyment. These selections have proven to be invaluable time after time.
What's more, most of these gifts are appropriate for any number of occasions—so feel free to use them throughout the year, not just during the holiday season!
This Post is all about finding the Best Gifts for College Professors
More Ideas from this Category