While most teachers feel their job is rewarding, the day-to-day tasks can be demanding, draining, and stressful. The buildup of these everyday stressors is one of the driving factors causing teachers to resign in droves in the United States.
Yet, despite the widespread teacher burnout, we can make a difference in teachers' lives with simple acts of kindness and thoughtful teacher appreciation gifts to show how much we value them.
A useful gift or kind word can brighten the teacher's day and make life a little easier. Think of items that will help make their day more manageable, such as planners, stationery, coffee mugs, desk organizers, or store gift cards.
Before you give your child's teacher a gift, attach a heartfelt note letting them know how much they mean to you. This may seem small, but it can have a massive impact that gives teachers the strength to keep doing the job they love! Let's look at some special teacher appreciation gifts you can present for Christmas, Teacher Appreciation Week, or at the end of the school year. Carefully selected by an experienced educator, these gifts are sure to bring a smile to any teacher's face!
DISCLOSURE: SOME OF THE LINKS IN THIS POST ARE AFFILIATE LINKS. THIS MEANS IF YOU CLICK ON AN AFFILIATE LINK AND PURCHASE THE ITEM, I WILL RECEIVE AN AFFILIATE COMMISSION AT NO EXTRA COST TO YOU. ALL OPINIONS ARE MY OWN AND I ONLY RECOMMEND PRODUCTS OR SERVICES I BELIEVE WILL ADD VALUE TO MY READERS. SEE FULL DISCLAIMER HERE.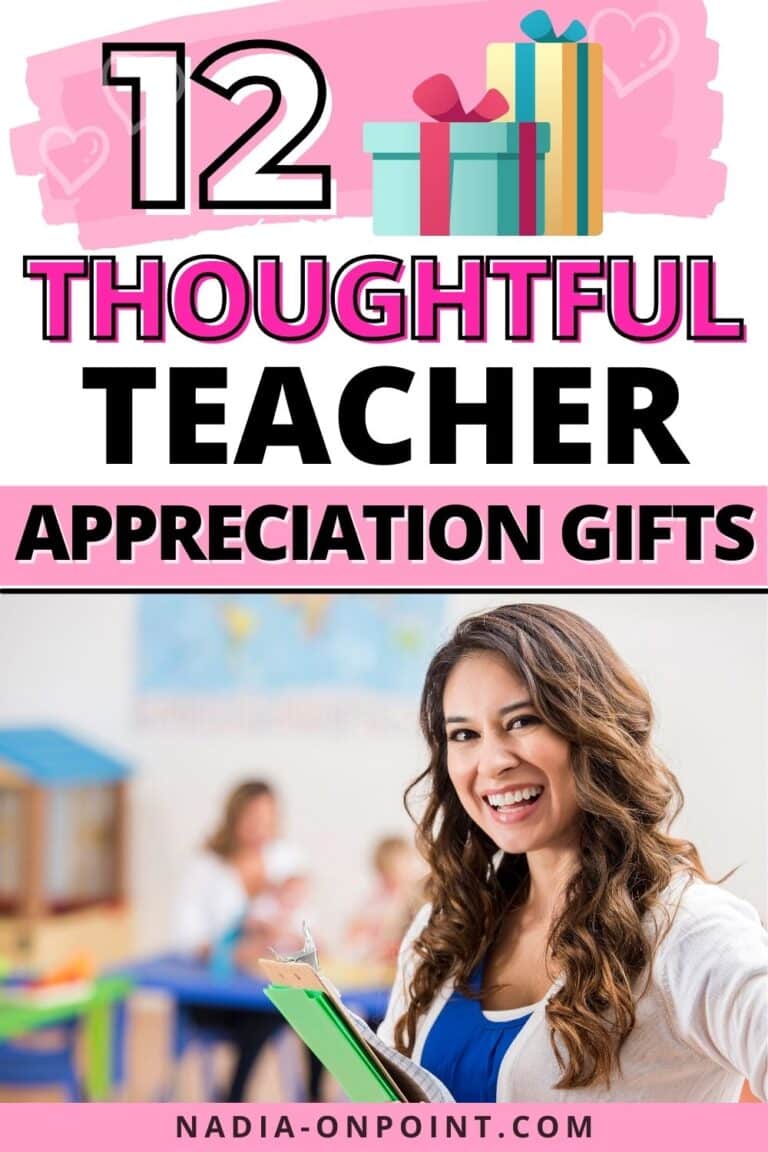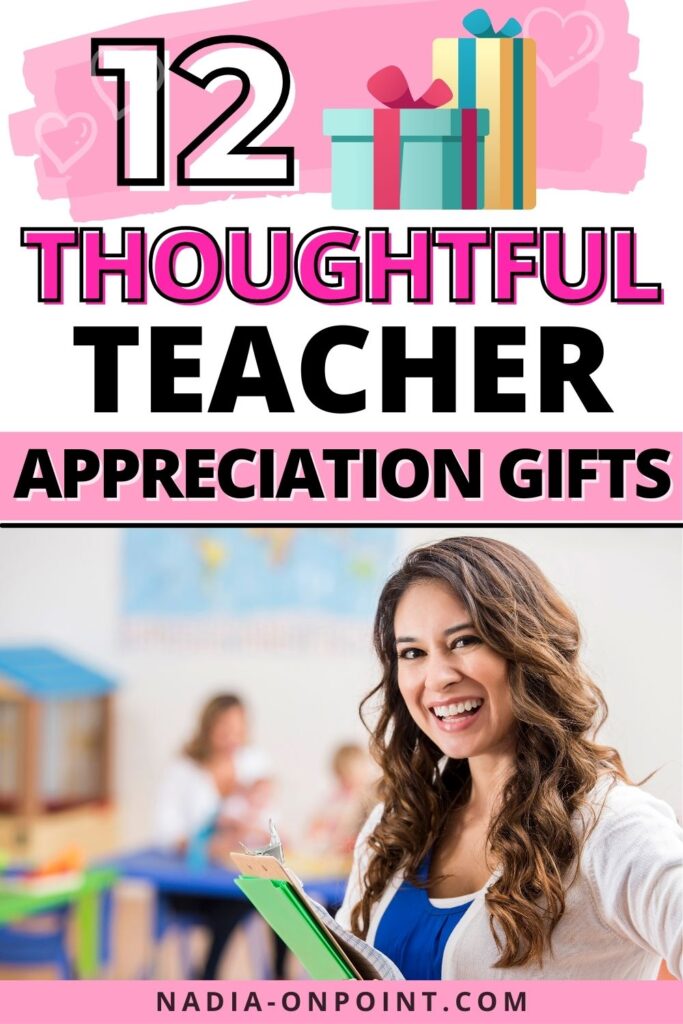 12 Great Teacher Appreciation Gifts
Gift-giving doesn't have to be daunting. With some creativity and thoughtfulness, you can find an excellent gift for any school teacher. Whether it's something small or large in measure, gifts are a great way to show your appreciation and gratitude for your favorite teacher.
Teachers are always scrambling for paper and other school supplies, so why not gift them a notebook personalized and unique to them? One of the best teacher gift ideas for under $10.00.

Teachers love quotes. Get a notebook that says "thank you," "you're awesome," or some motivational or inspirational quote to remind the teacher every day!

Alternative: If you want to be inventive, create your own teacher appreciation book. Have each student decorate one page with a message, quote, or drawing. Staple the book together, add a book cover, and voilà! You've got yourself a great teacher gift they are sure to cherish.
---
For the teacher who survives on caffeine during the school day, a coffee or tea gift basket is an excellent appreciation idea.

Fill up the basket with their favorite coffee, teas, and snacks. You can find many ready-made options at stores such as Amazon or create one yourself.

Alternative: You may want to invest in a coffee machine for the teacher's room. A coffee machine will make sure they get the perfect coffee even if they are rushing. Allow your teacher to get her favorite espressos, cappuccinos, or americanos while on the go!
---
An oil diffuser is a perfect teacher gift! Not only does it help to freshen and purify the air, but it provides additional therapeutic benefits, depending on your choice of oils. For example, frankincense may be suitable for conditions such as bronchitis and asthma. Lavender inhibits anxiety and promotes restful sleep.

You can find many aromatherapy diffusers, which come with essential oils to help your teacher relax after a long day of teaching. Make their classroom an even more inviting place with this thoughtful present!

Alternative: Encourage the teacher to unwind by burning some candles. Fragranced candles are another great gift idea that provides light, scent, and tranquility to any room.
---
Gift Card
A gift card is an uncomplicated appreciation idea yet an effective way to say thank you. Gift cards allow teachers to choose something they want or need, such as classroom supplies or items for their home. Treat her to a gift certificate to her favorite restaurant. Amazon has many options for gift cards, and you can even get a digital version, which you can send with the click of a button!
Send a personalized gift card with messages like "We Appreciate You!" You can also add photos or videos to the Amazon eGift Card version.
Alternative: A bookstore voucher or movie ticket is another great appreciation idea. Seek out your teacher's interests and choose the gift card accordingly.
---
Back to the coffee and tea again! Instead of getting a regular mug, why not opt for a tumbler to keep their beverages warm for hours? Teachers rarely have time to take a sip, so this is a useful gift!

Find a personalized tumbler for teachers and include a heartfelt note of appreciation along with it, and you're ready to go! Alternative: Get them an insulated water bottle. It holds more and will keep drinks cold for up to 12 hours! There are many stylish metal and glass water bottles to choose from.
---
For the tech-savvy teacher, you can't go wrong with an e-reader such as a Kindle. With a Kindle, your teacher can access over a million books and other content, such as magazines and newspapers, in one device. Plus, they may not need to carry so many heavy textbooks!

Teachers can use the Kindle to highlight sentences, take notes, and get lost in a good book. The high-resolution display and electronic ink technology come close to the feeling of reading on paper and is comfortably viewed indoors or outdoors.
---
Plants make great teacher gifts because they bring a breath of fresh air into the classroom. Studies have shown that office plants improve productivity and alleviate stress and anxiety. You can find many low-maintenance and beautiful plants and succulents for teachers to enjoy in their classrooms.

Alternative: You can also find many plant pots with personalized messages. Planters for succulents are not too big in size and will be a suitable gift to give to your teacher in school. Check out this adorable "best teacher ever" pot set!
---
Many teachers spend a remarkable amount of their own money on stationery. An excellent gift idea is to provide them with supplies for their classroom – pencils, markers, tape, sticky notes, and other materials.

Alternative: If your teacher is a crafter, you could provide them with craft supplies or art materials. Sharpies are neat markers that come in various colors and are great for decorating wall art. Add an adult coloring book to the mix if you think the teacher might use it.
---
A personalized teacher gift like a plaque is a perfect way to show appreciation for your teacher's hard work. You can find many plaques specifically designed for teachers. Customize the message with your teacher's name, their years of service, and a heartfelt message.

Alternative: Design a door hanger for the teacher's office or classroom. Personalize it with the teacher's name and a quick message, such as "best teacher." This is a nice pick-me-up they will see every day before they enter!
---
Books for the Library
A great way to show your teacher appreciation is by donating books to their classroom or school library. You can find many discounted book bundles that are perfect for donating or gathering up some of your old books and donating them. This way, you'll be able to give the teacher something special from your collection. Don't forget to include a nice thank-you note in the book!
Alternative: if the students are young, a lego set or some board games may be a great addition to the classroom supplies. It will help the kids have fun and learn at the same time!
---
A thank-you basket is a great teacher appreciation gift! Put together an assortment of their favorite snacks, drinks, or other items and supplies. Include things like pens, highlighters, notepads, chocolates, hand sanitizer, lip balm, or other goodies.

You can find a basket and decorate it with a ribbon and a gift tag, or buy a ready-made one. Add a personalized message or thank you card to make it extra special. See more tips for creating this cute teacher appreciation gift.
---
A Bottle of Wine
Your child is not the only one who needs their juice! A nice red or white wine will make a perfect gift for a teacher who loves to relax and unwind after school or on the weekend. For Teacher Appreciation Week in spring, you want to choose lighter, fruitier wines, such as Chenin Blanc, Rose, or Pinot Grigio. They are sure to be a hit!
Alternative: If the teacher prefers beer, you could buy them a variety of craft beers to try. Or give them a voucher for their local brewery.
---
I Can't Thank You Enough!
No matter what you choose, remember teacher appreciation gifts are all about recognizing your teacher's hard work and commitment to shaping little minds.
In the end, teacher appreciation gifts can be simple and inexpensive. With some thought and effort, you can find the perfect gift to tell them how much you care.
This post originally appeared on Savoteur.
More Ideas from this Category
Caitriona is a private language tutor and founder of TPR Teaching. Caitriona has been teaching the English language since 2016. She has taught in schools in Spain and the U.K., and she currently teaches online. On her blog, you will find tons of English language articles, worksheets, resources, tips, and advice for learners and teachers.