Are you looking for some unique Gift Ideas for Nursing Home staff? Let us help to put a bright smile on their faces.
How can you find the best gifts for nursing home staff? Nursing home staffs are one of those groups that always seem to be overlooked. Yet, they are the unsung heroes of the healthcare industry. These hardworking men and women work tirelessly to care for our elderly loved ones and deserve our gratitude.
If you are looking for a way to show appreciation for the nursing home staff in your life, why not consider giving them a gift? Here are ten great gift ideas for nursing home staff.
DISCLOSURE: SOME OF THE LINKS IN THIS POST ARE AFFILIATE LINKS. THIS MEANS IF YOU CLICK ON AN AFFILIATE LINK AND PURCHASE THE ITEM, I WILL RECEIVE AN AFFILIATE COMMISSION AT NO EXTRA COST TO YOU. ALL OPINIONS ARE MY OWN AND I ONLY RECOMMEND PRODUCTS OR SERVICES I BELIEVE WILL ADD VALUE TO MY READERS. SEE FULL DISCLAIMER HERE.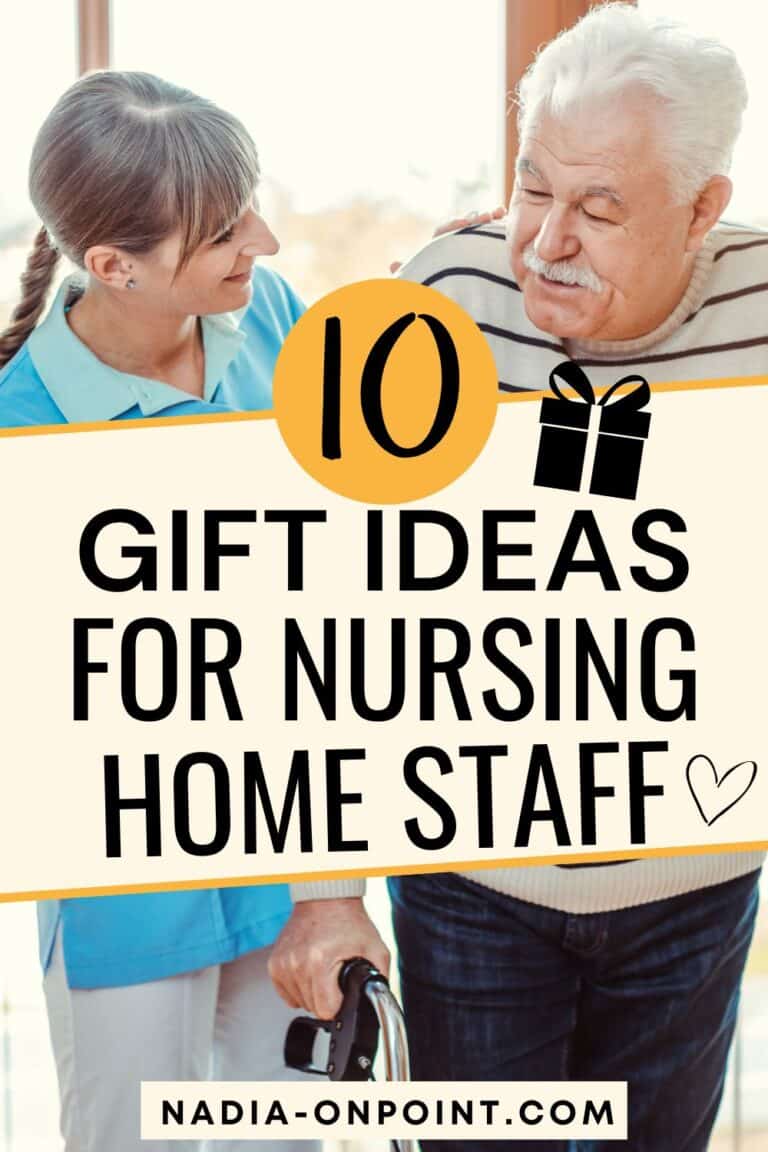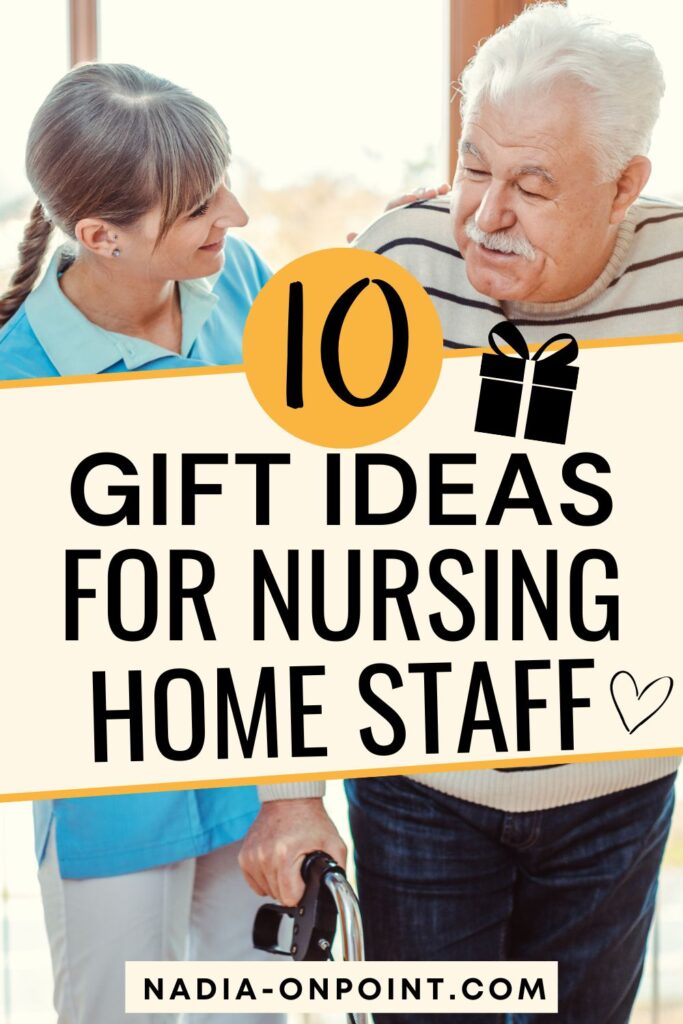 Best Gifts for Nursing Home Staff
Shower Steamers generally enable someone to take a break from their busy life. The all-natural shower steamers are perfect for active workers who want to relax and unwind in a luxurious home Spa experience. With essential oils and natural ingredients, the shower steamers will help a nursing home staff wash away all the day's stress and fatigue. Tell them to light a shower steamer, sit back, and relax in a peaceful oasis away from the hustle and bustle of everyday life.
---
Here's a gift idea to show appreciation for the hardworking nurses in your life. The set includes six makeup bags and keychains, all featuring a nurse theme. The makeup bags are perfect for holding all her makeup or nursing essentials, and the keychains make it easy to keep track of her keys.

The cool thing about this is that You can break up this gift set and give it to several nurses or give it to one nurse as an exclusive gift. Either way, the nursing home staff in your life will surely appreciate this thoughtful gift.
---
Who doesn't love a little wine now and then? This wine tumbler is an excellent gift for any nurse who loves to relax with a glass of wine at the end of a long day. The tumblers feature a fun "Sometimes you forget you're awesome" design, and it comes in a pretty box ready for gifting.

The wine tumbler is also great for relaxing by the pool, beach, or camping. This wine tumbler is eco-friendly and safe to use thanks to the BPA-free construction and included stainless steel straws. The nurse in your life deserves it!
---
This 925 Sterling Silver Nurse Necklace is the perfect way to say "thank you" to the nurse in your life. You can personalize the delicate necklace with their initials, making it a unique and personal gift.

The necklace is also hypoallergenic, non-fading, lead-free, and nickel-free, so it's safe for even the most sensitive skin. So whether they wear it every day or save it for special occasions, the Sterling Silver Nurse Necklace will be a gift they'll cherish for years to come.
---
A gift set from Burt's Bees is perfect for busy men or women who are always on the go. The set includes two hand creams and cuticle cream that keep your hands looking and feeling soft, smooth, and healthy. The hand creams have natural ingredients, and the cuticle cream has beeswax, which will help nourish and condition their nails and cuticles.

The great thing about anything made by Burt's Bees is that it's all-natural, so you know it won't harm their skin in any way and thus making them excellent gifts. Anyone who works with their hands will appreciate this gift set, as it will help to keep their hands looking and feeling great.
---
This unique gift is perfect for the nurse who loves to take pictures and document their life experiences. The frame has a funny yet moving quote like "Not All Heroes Wear Capes, You Wear Scrubs," making it a great conversation piece. The hanging twine and picture clips make it easy to display photos of their favorite memories.

Moreover, the frame is an excellent addition to any home or office. They'll love this gift and remember you any time they see it.
---
This beautiful piece is engraved with beautiful words, "By touching so many lives, you have changed the world," which is the perfect way to let your favorite nurse know how much you appreciate them.

Made of quality acrylic, this centerpiece is large enough to be noticed from a distance but won't take up too much space. Additionally, you can also rest assured that it will last for years.
---
If you're looking for unique and thoughtful gifts for the nursing home staff in your life, look no further than these succulent ceramic pots! These pots are perfect for displaying small succulents and add a touch of personality to any room. Plus, they make a great conversation starter!

The three pots say, "best nurse ever." If the nurse you know is a succulent lover, they will adore this gift! It's the perfect size for any office and makes a great desktop decoration. Any nurse would smile significantly knowing you went out of your way to find such a personal and thoughtful gift!
---
Nurses work tirelessly day in and day out to make sure their patients receive the best possible care. So when it comes time to show them a little appreciation, make sure you choose a practical and thoughtful gift. A keychain is a perfect choice because it's both stylish and functional.

The keychain offers words of encouragement that will help keep your favorite nurse going even on the most challenging days. They'll look at it and remember how much you appreciate them. It's a gift they will use daily, and they think of you every time.
---
So, have you found the Ideal Gift for nursing home staff who have cared for your loved ones for years?
No one works harder than nurses! They are always on the go, taking care of patients and ensuring they receive the best possible care. We all should be grateful for everything they do!
The same for nursing home staff; if someone you love is being cared for by nurses, it's essential to show them how much you appreciate them. Gifts are a great way to do that!
There are many great gifts for nursing home staff, but the ten listed above are sure to be a hit. No matter which one you choose, the nursing home staff in your life will surely appreciate the thoughtfulness and care that went into selecting it.
This post is all about finding the best Gifts for Nursing Home Staff