When it comes to useful Kitchen Items, they never fail to make awesome gifts. That is to say, they make perfect gifts for cooking fans, the man who has everything, newlyweds, or just move-ins. Check out the list I put together for some of the coolest kitchen items which are also useful!
Magic Bullet Blender
An ideal gift for foodies who hate cooking! Now you can create smoothies, omelets as well as some of your favorite dips effortlessly! It even comes with a recipe book to help you get started! Perfect gift for the dad who loves to cook!
---
Mini electric chopper
Cool kitchen gadgets will never fail to amuse a cooking fan. For this reason, an electric chopper will never disappoint. That being said, do you know what's cooler than a regular electric chopper? Yes, a mini electric chopper! It may be fun-sized, but it's capable of grinding anything from meat, garlic, ginger, peppers, carrots, vegetables, onions, and nuts. Oh well, don't judge a book by its cover.
---
Cereal, Dry Food Dispenser
Hey there, cereal lovers! Are you annoyed by the large cereal boxes? You can't be the only ones, I mean, finding a space to store all the huge cereal boxes can be challenging, if not annoying. The 'dry food dispenser' does not only save you space but ensures your kitchen looks fancy & modern.
Apart from Cereal, it is also ideal for granola, snacks, and even pet food!

Besides being cool, it also keeps your dry food fresh for a long time.
---
Fun Pizza Roulette Board
Fast to grab a slice? Beware, for each slice comes with a duty! Yes, it could be great to tell a joke or have another slice, but you may also end up doing a lot of house chores!
---
Dessert spoons with Swan holder
It's super rare to find something practical but yet extremely beautiful. This makes the perfect gift for newlyweds, move-ins, or just dessert lovers!
---
Attractive Oil & Vinegar Dispenser
We all hate having greasy hands or spilling oil all over the place. An attractive oil dispenser will definitely solve the problem. No more slipping or leaking all over the dining table! It will make a wonderful gift for friends or family.
---
Mini Coffee Maker
How cute is this? This fun-sized coffee machine can be placed literally anywhere. Fast & freshly brewed for anyone who enjoys a morning cup of coffee. Awesome gift for students or newlyweds.
---
Cute Bear Mugs
This is too cute, it's heart-warming. The best part is that it is both heat and cold-resistant! As a gift, I can guarantee there will be no room for disappointment.
---
Pinguin Dessert Spoons
As if having ice cream as a dessert is not enjoyable enough, we get to have Pinguin spoons only to add more to the fun! An amaying gift for fun scoops!
---
Cute & Funny Tea Infusers
Surprise your guest with a funny cup of tea beyond their expectations. See if they can keep a straight face. Furthermore, you can also give yourself a treat with a hot cup of tea while enjoying the cute view – this will definitely put a smile on your face. Made from 100% food-safe silicone & wrapped in a brightly colored box for an adorable little gift.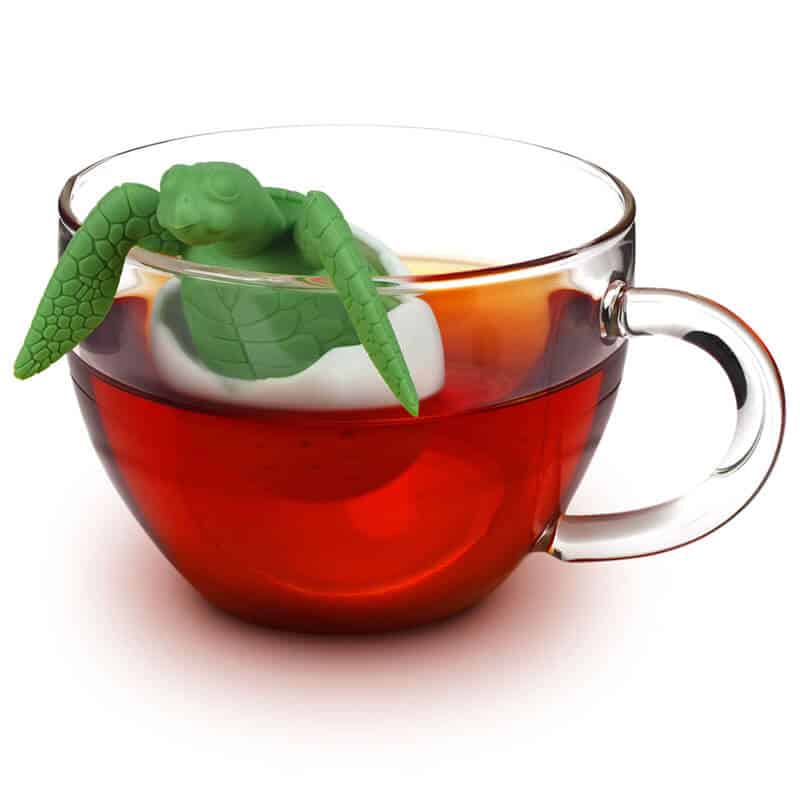 ---
Motorcycle Pizza Cutter
The ideal gift for motorcyclists or pizza lovers! It also comes with a stand for a cute display and easy storage. No one will know what it's for until you start slicing a pizza. Impressive!
---
More Ideas from this Category