Here are some Unique Easter Gift Ideas for Kids that aren't necessarily sweets or chocolate.
Gift-giving at Easter is one of the most joyful times of the year. However, We often get stuck on what to buy other than filling a basket with candies!
There are plenty of gift ideas for kids, but narrowing down on a few can be difficult. No worries, for I'll be sharing with you some unique and non-candy gift ideas to make the process easier!
Easter Bunny Wish Bracelet
A gift from the Easter Bunny! How sweet is that! Not only does it make a cute little gift, but you can also tell your kids to make a wish, for it says, "make a wish… as you place on your wrist" talk about turning the moment into something magical!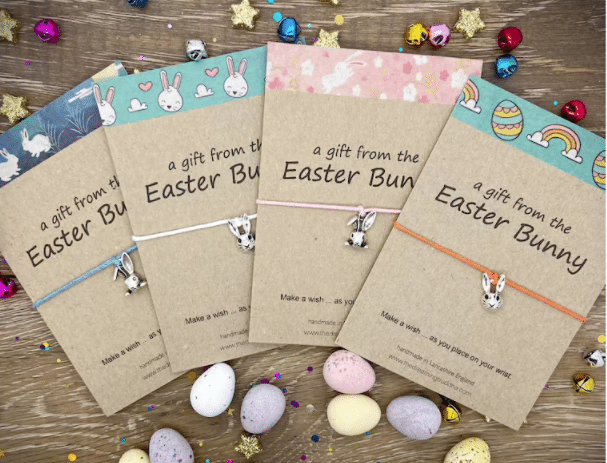 ---
Egg Toss – Hilarious Easter Gift for Kids
Fun, hilarious, and a great way to get your kids out of the couch and stay active on Easter day! The game is simple; all you need to do is toss the egg around to one another without dropping it! It comes with a built-in smart sensor to determine a soft catch, a hard one, or a drop, and the responses from the eggs are just hilarious. Besides being fun to play, it's also entertaining to watch!
---
Night Light Craft Kit
It'll make an excellent gift idea for children who enjoy DIY and crafts. They can now build their very own customized rabbit night light for Easter! Each step is simple to understand, allowing children to show their artistic talent and expand their creativity.
---
Dino Eggs – Fun Easter Gifts for Boys
Are you stuck on finding the perfect Easter gifts for boys? I know it can be challenging, but the following Dino Eggs might do the trick! Not only will they have fun, but your kids can also learn about 12 unique dinosaur species and feel like a real paleontologists! An excellent gift choice for tween boys.
---
Easter Activity Book for Kids
Get your kids a fun and educational Easter activity book this year! Packed with games, puzzles, and activities, it's sure to keep their minds off of chocolate for at least an hour. Plus, the activities also help them stay active on Easter day!
---
Cute Bunny Night Light
Bunnies don't just hop around in the daytime. Let your little one sleep peacefully through the night with this adorable nightlight that keeps the dark at bay until morning. This bunny night light is super soft and cuddly, so it's perfect for any child's room or playroom. A perfect Easter-themed gift that will keep them company during the night.
---
Easter-themed Puzzles
If you're looking for a gift that will keep them occupied for a long time, look no further! Here are a variety of puzzles that perfectly capture the spirit of Easter; these puzzles are a great way to introduce kids to jigsaw puzzles.
---
Make A Wind Chime Kit
Your kids could make their very own wind chime with the following easy-to-use kit. This gift will be the perfect way to spend time with family or for a fun Easter afternoon. You can let their imagination shine with multiple color choices and create some spring vibes. Once they're done crafting, watch them sound off their unique creation.
---
---
Easter Bunny Plush
Bring the joy of Easter to your children with these adorable bunnies. This Easter Bunny Plushie can be played with or just used as decoration. With its soft, cuddly plush fabric and bright colors, this Easter Bunny Plush is sure to make a sweet, sentimental gift!
---
Handbag for Kids
Handbags are excellent gifts for kids, as they are always used to their school backpacks; it's a great idea to get them their first-ever handbag to use for anything else other than school! An Easter-themed bag, such as a bunny, will make a cute gift, but you can also get different sorts, for example, the trendy pop fidget bag or a shoulder bag.
---
Cozy Easter Slippers
Looking for a cozy way to enjoy the Easter holiday with your family? Get your kids these adorable bunny-shaped slippers made of plush fabric. They come in a variety of colors to match their taste. Perfect for getting them ready for the Easter hunt!
---
Easter Activity Box
The following craft and activity box for kids will make easter even more special this year. Firstly, it's loaded with all things easter except for sweets and chocolates. Moreover, it'll keep your kids busy for days! Each box is uniquely handcrafted and includes all parts needed to create an Easter egg decoration!
---
Easter Seed Box Kit
Now, your kids can grow their own Easter bunny tails; how cute is that? Not only will it create a lovely easter atmosphere, but your child will also be able to learn all about planting and growing seeds! You can even have your child's name on the top for personalization!
---
Easter bag toss Game
How about some real fun outdoor activity? The Easter toss game below will make a great outdoor activity on Easter morning during the easter hunting party. The game is quite simple; all you need to do is throw bean bags through the holes in the banner to get points; the player with the most points wins the game!
---
My first Easter egg hunt Personalized Book
Are you looking for something unique and personalized? My first Easter egg hun personalized book will make an excellent personalized gift for toddlers or young children. In this book, your child gets to go on an adventure where animal pals will surprise them with a fun egg hunt!
---
Cooking and Baking Gift Set
The below cooking and baking set is perfect for young chefs! It provides children with everything they need to bake like the pros. The kit includes a portable, reusable toolbox For storage, recipe cards, stylish unisex apron, measuring cups & spoons, kitchen timer, rolling pin, spatula, whisk, cookie cutters, and much more.
Kids will learn how to cook and bake cookies while having fun! Give your child the gift of cooking this easter with this adorable baking set!
---
Easter Basket Stuffers Ideas
You can't let Easter pass without the traditional Easter Baskets! Here are some Easter Basket ideas that are fun and not necessarily candy. From Play-Doh Eggs to fidget toys and toy cars, these Easter basket stuffers are very delightful for both boys and girls!
---
And here you have it! 17 Easter Gifts for Kids that aren't candy. The sort of Easter gifts your kids will definetly love.
These easter gift ideas will be much more fun or valuable than filling up a basket with sweets and chocolates. In other words, you are more likely to create a lovelier Easter atmosphere.