Are you looking for the best gift ideas for someone who likes to sew? Here are the Top 10 gifts for people who sew (Beginners & Pros)
You might be scratching your head over what to get a sewing enthusiast for their birthday or Christmas. They will likely have cabinets stuffed to the brim with sewing supplies and the most up-to-date sewing equipment, so what else could they possibly need? Finding gifts for someone who likes to sew is not so easy.
The good news is that we have just the round-up for you! To make it easier for you to find the ideal present for someone passionate about sewing, we have compiled various gift options. You'll discover some sewing-related gifts for your creative friends, whether it be artwork with a sewing theme, a practical organizer case, or a sewer's mug for their tea!
Our guide will help to find the perfect gifts for someone who likes to sew. Whether you are looking for a gift for a beginner or a more experienced sewer, we have something for everyone.
DISCLOSURE: SOME OF THE LINKS IN THIS POST ARE AFFILIATE LINKS. THIS MEANS IF YOU CLICK ON AN AFFILIATE LINK AND PURCHASE THE ITEM, I WILL RECEIVE AN AFFILIATE COMMISSION AT NO EXTRA COST TO YOU. ALL OPINIONS ARE MY OWN AND I ONLY RECOMMEND PRODUCTS OR SERVICES I BELIEVE WILL ADD VALUE TO MY READERS. SEE FULL DISCLAIMER HERE.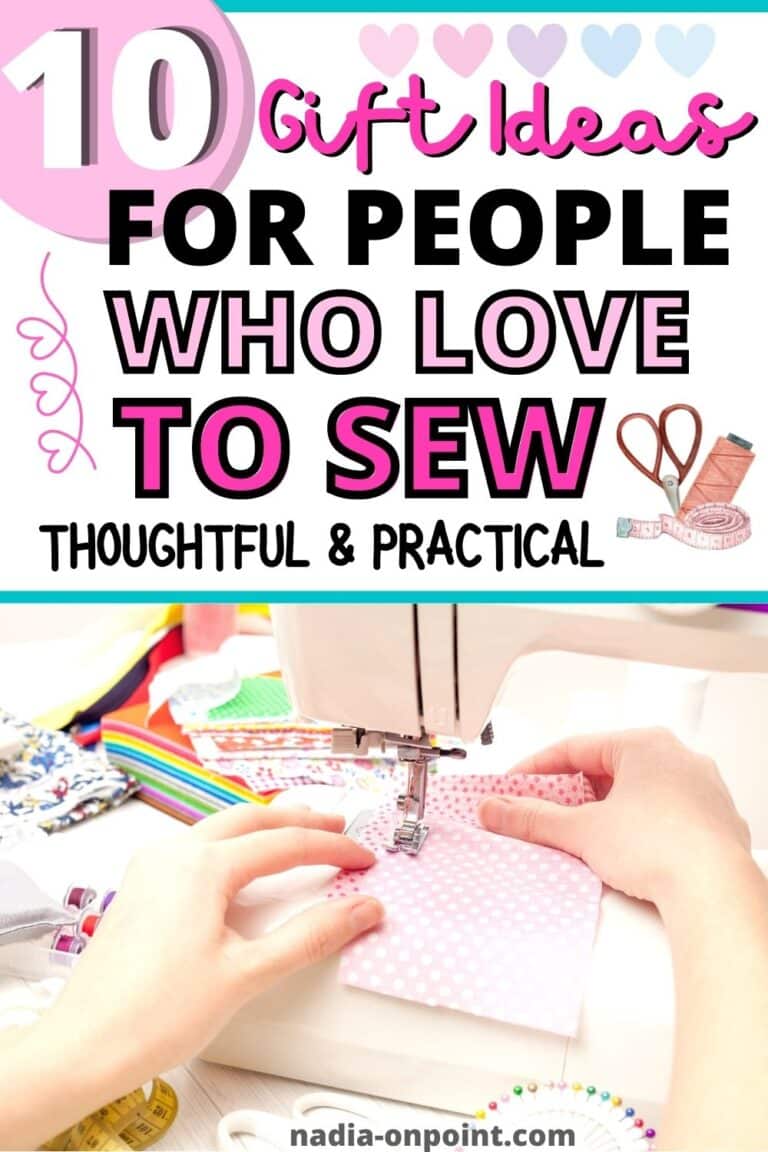 Best Gifts for Someone who likes to Sew
These needle minders would make beautiful presents for anyone who does a significant amount of hand sewing or embroidery. It is the ideal spot to put your needle down, so it'll never be misplaced. The best part is they will always remember your gift when they place a needle on these cute needle minders! It's a unique gift idea that certainly won't disappoint.
---
Here's a unique gift idea for someone who loves to sew or has a sewing room in their home. It's perfect if you are looking for something sentimental and personalized. For example, it'll make an excellent gift idea for mom for Christmas, mother's day, or as a retirement gift. After all, sewing is their happy place!
---
A Sewing organizing kit is a must-have for any sewer. They are essential accessories for sewing projects to store all their sewing items appropriately so they don't get lost or mixed up with other things. Although most seamstresses will have an organizing kit for all their sewing stuff, it'll never hurt to get them a new one to replace their old and worn-out kit!
---
The only mug a sewer should have! How cute is this? It'll be perfect for the sewing enthusiast in your life to sip their tea or coffee while sewing! Furthermore, it comes in a cute box perfect for gifting! Surprise your loved ones with this unique gift, and I promise you'll put a smile on their face.
---
Any seamstress will love this fabulous vintage addition to their workspace! Surprise a sewing fan with this cute and practical gift to improve their sewing experience! Moreover, it's not just practical but also adorable, making it perfect for any sewer in your life. If you run out of gift ideas for someone who likes to sew, I highly recommend a pretty thread catcher like this one.
---
An excellent gift for a beginner who takes sewing classes! They'll benefit greatly from owning a sewing machine trolly as it's portable, has wheels that are simple to operate, and won't topple over quickly. It's compatible with Most Brother & Singer sewing machines and perfect for storing all their sewing needs.
---
9. Unique Sewing Jewelry
On a cuteness scale from 1 to 10, these sewing pieces of jewelry for a seamstress are beyond adorable. Jewelry is always a great gift, and the following options are no exceptions. If anything, they will find your gift super thoughtful and unique! There will be no room for disappointment!
---
10. Sewing Wall Clock
The only wall clock they will need! It doesn't matter if they have a sewing room; these wall clocks will add character to any room! Pick one of the following ideas, and I promise your gift will stand out from the rest.
---
There you have it, the Top 10 Gifts for Someone who likes to Sew.
When deciding on a gift for someone who enjoys sewing, you can consider decor ideas, sewing items, or organizing a kit.
You can never go wrong with sewing stuff or storage kits because most sewing tools and items tend to become damaged or go missing. I hope you found these ideas helpful to surprise your sewing buddy for their Birthday or Christmas. However, you can also get these gift ideas any other time of the year when you need to show them how much you value them as a friend and the friendship you share with them.
Moreover, if you are a sewer yourself, you can even reward yourself with one of these incredible presents by getting one of the items from the above list. There is no harm in gifting yourself!
This post is about finding the Best Gifts for Someone who likes to Sew