Are you trying to find the best gift ideas for the rich person in your life?
We know choosing gifts for rich people will not be a walk in the park.
If you know or rich person or someone who has everything, you might feel lost trying to find the perfect gift, but no worries, you can still find a wonderful present for them. Yes, rich people can be hard to impress easily; for this reason, we created a list to help you figure out the best gift ideas. They may like it or hate it, but one thing we know for sure is that they will at least appreciate the gesture!
DISCLOSURE: SOME OF THE LINKS IN THIS POST ARE AFFILIATE LINKS. THIS MEANS IF YOU CLICK ON AN AFFILIATE LINK AND PURCHASE THE ITEM, I WILL RECEIVE AN AFFILIATE COMMISSION AT NO EXTRA COST TO YOU. ALL OPINIONS ARE MY OWN AND I ONLY RECOMMEND PRODUCTS OR SERVICES I BELIEVE WILL ADD VALUE TO MY READERS. SEE FULL DISCLAIMER HERE.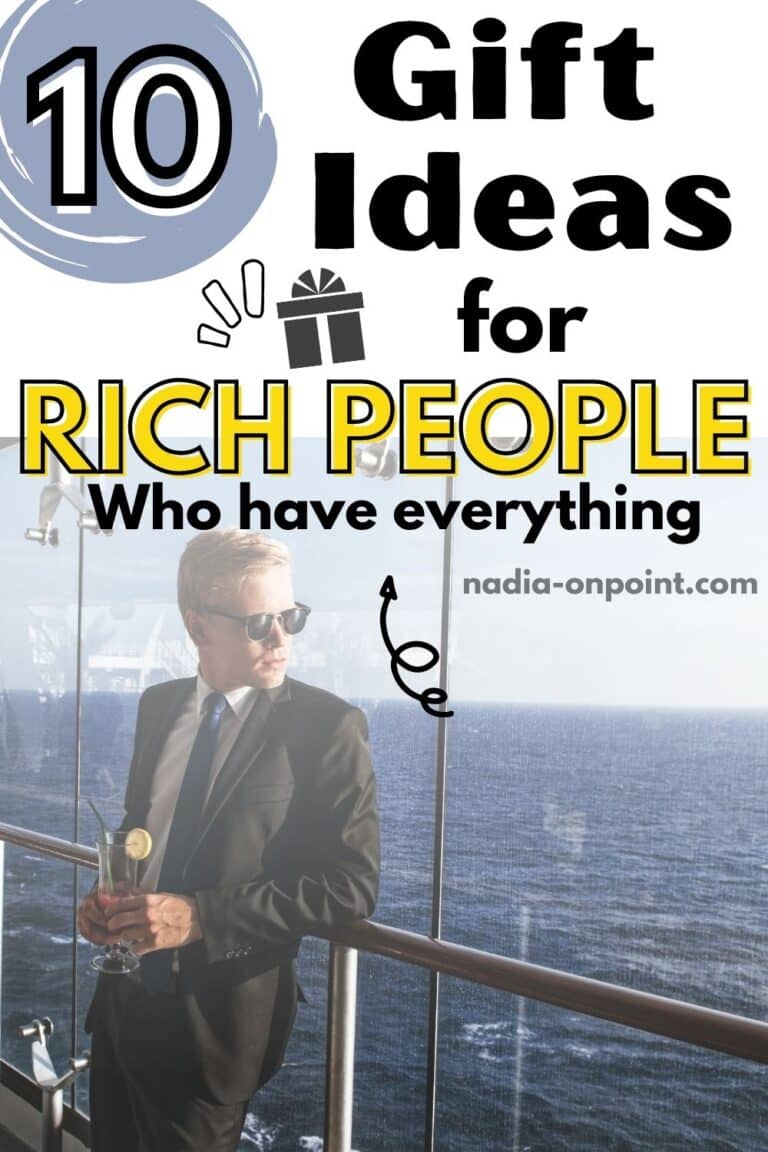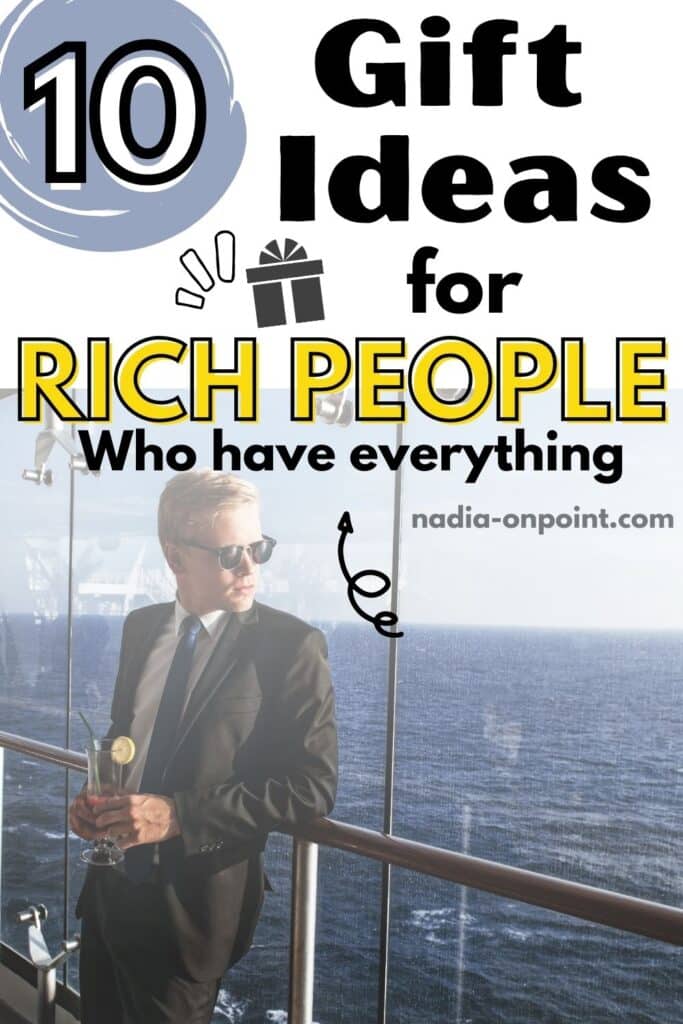 Interesting Gifts for Rich People
This watch From Stührling will make a fun gift for any man whether he's into watches or not. Its unique style and design will add the perfect touch to any outfit, and it goes with everything from jeans and a t-shirt to formal wear! Talk about an accessory much more than an average timepiece.

If the rich person already has a collection of watches, this one is stylish enough that he'll want to add it as part of his rotation. They'll love this one, and at a fraction of Rolex cost, they'll wonder why they never got it in the first place.
---
Art brings out our emotions and connects them to colors. If you're looking for an elegant gift to give the rich person in your life, consider an original painting by a professional artist. This unique present will be one of a kind as you can frame it for display in any home or office.

An original painting is also a perfect choice for anyone on your list who likes to collect art (you know how rich people love collecting art) or who has an eye for aesthetics!
---
An ideal gift For the rich person who is also a beer lover! This Beer Dispenser will transform any can or bottle into a fresh draft-style pour. Even respected beer connoisseurs have praised it for its ability to improve the taste, mouthfeel, and experience of drinking beer! In addition, it's easy to use and looks great on the kitchen counter.

With this gift, a rich person doesn't have to worry about wasting money on getting an expensive draft beer when they could get an even better tasting one from their own home with just the push of a button!
---
You may be wondering why I've included a side table on a gift guide for wealthy people. The answer is simple: this is the sort of purchase that, while affordable to you and me, should be considered way below the standard of someone who's stinking rich. You can buy something lavish, but why not get them something they'll use instead?

The versatility is the beauty of this table. It can serve as a bedside table or in the living room. Its farmhouse style means it will match any existing decor and will also look great on its own if they're redecorating from scratch after buying their third country estate!
---
---
Get a comfy silk touch bathrobe for your wealthy friend. It may not be their only Bathroom, but it will be a great addition to their bathrobe collection. It is suitable for both males and females as it is unisex. Furthermore, it comes in different sizes, colors, and it's made out of 100% cotton. It is a smart choice for that wealthy friend in your life.
---
This tiny laser-etched USB Memory Stick will transform their TV into a billion-dollar art gallery. Not so shabby for a rich person who has an eye for the world's most famous paintings. With the ability to showcase 500 beautiful artworks in history while playing music, it'll make a wonderful gift that will turn any wealthy person's living room into the best museum in the world! Talk about tasteful gifts for rich people.
---
Do you still remember the first time you heard a pair of NHT speakers? – Yes, even a rich person does! It's an experience that stays with you forever. This 3-way speaker features a sealed box design for tight, accurate bass response and aluminum drivers for superior high-frequency replay. It will make a great addition to your wealthy friend's bookshelf, especially if they are into music and party lovers.

They will remember you every time they hear a beat. Amazing, right?
---
When you've got a rich person on your holiday shopping list, you want to get them something special. A nice pair of sneakers is a great option. They're versatile enough to be worn casually or officially, and the Nike Court Vision Low Sneaker particularly has several features that may make it a good choice for the rich person in your life. A good pair of sneakers should provide comfort for whoever's wearing them, even if they're not playing sports.

There are plenty of reasons why these shoes could be a perfect gift for someone who has everything money can buy — but perhaps one of the best reasons is how stylish and classic their design is! Their neutral colors would complement any outfit.
---
---
The whiskey lover on your list will love everything about this gift set. It contains two crystal glasses, some whiskey ice cubes, and two slate coasters. This gift set spells richness on its own. The Rich love to live extravagant lives, and this gift will help them achieve that.
---
This Vintage Journal is handcrafted from genuine top grain leather, thus giving it a rich look. It's the perfect gift for anyone who needs a place to jot down ideas, thoughts, or quotes that come to mind throughout the day.

With a classy leather cover and ribbon bookmark, it'll surely make a tasteful gift for wealthy people. It's high-quality, so it's extra durable and will last you a long time!
---
Seemingly extravagant yet affordable, these are the top 10 gifts for rich people.
These are some of the best gifts for rich people. They aren't just any gifts for rich people—they are unique and meaningful for most wealthy people or people who have everything.
Ideally, this list will inspire you to focus more on genuine gestures over expensive material presents. You can never go wrong with acts of kindness, which are also much more likely to be appreciated by rich people. The best gifts for rich people are gifts that will elevate their lives as well as practical and unique. When the thought behind your gifts is genuine, there's no way you can go wrong.
This post is about finding the best Gifts for Rich People and People who Have Everything